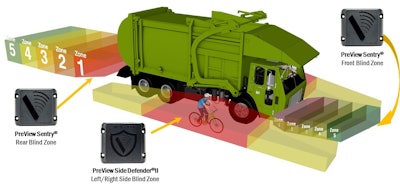 Mack Trucks announced the Sensata Technologies PreView multi-sensor collision warning system is now available for order on the Mack LR, Mack LR Electric and Mack TerraPro models. In addition, the OEM launched its Electrify My Refuse Route Program, a campaign that rewards customers for sharing their refuse routes to prepare the fleet's readiness for the Mack LR Electric refuse vehicle.
Mack also says TEC Equipment in Oakland, Calif., is now a certified EV dealer and will now be able to service and support the Mack LR Electric refuse truck. Mack made these announcements at WasteExpo 2022, held May 9-12, in Las Vegas.
Sensata uses four radar sensors — one on the front, one on the rear and one on each side of the vehicle — to detect objects and vulnerable road users (VRU) that might be located in a driver's blind spot. VRUs are pedestrians, cyclists and motorcyclists.
"Mack Trucks is committed to safety, and the PreView safety system will help mitigate the risk of accidents for drivers and improve the safety of those on the roadway with heavy-duty vehicles," says Josh Seiferth, Mack Trucks cabover product manager. "Ninety-five percent of refuse collection occurs in an urban or suburban setting, such as neighborhoods, schools, apartment complexes and more. Mack is proud to be one of the first refuse vehicle OEMs to utilize a system to help detect VRUs."
When a VRU is detected, an audible alert is sounded and the A-pillar lights flash, offering drivers a notification that there is an object or VRU in a blind spot. The PreView radar system is available as an option and is factory-installed on new builds. Customers may also retrofit their trucks with the system by contacting their local Mack dealer.
PreView is always on. The system requires no maintenance unless something damages it, or a software upgrade is made available.
The Mack LR is a diesel-powered low-entry refuse vehicle that features large windshields, side windows and a rear wraparound window for improved safety. The Mack LR Electric, Mack's first fully electric Class 8 vehicle, also features the same visibility enhancements.
The Mack TerraPro model, Mack's vocational model, features the forward-most window glass in the industry to help keep others on the road and jobsite safe. Along with refuse, the TerraPro model also is available as a concrete pumper and conveyor belt configuration.
Electrify My Refuse Route
Through Mack's Electrify My Refuse Route program, customers simply download the Mack Route Recorder app to receive up to $750 in Mack parts reward cards for sharing valid refuse collection routes. Customers who then purchase or lease the Mack LR Electric refuse vehicle can receive $25,000 for charging hardware reimbursement and $10,000 in additional charging reimbursements for each further vehicle purchased.
"Mack is committed to helping customers make the transition to e-mobility, and one way in which to do that is to find ways to mitigate the infrastructure costs, which can prove to be a barrier to electrification," says Jonathan Randall, Mack Trucks senior vice president of sales and commercial operations. "The battery-electric Mack LR can help customers achieve their sustainability goals, so Mack wants to do whatever we can to encourage customer adoption of the zero tailpipe-emissions truck."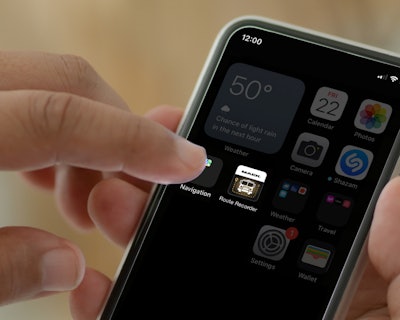 To qualify for parts reward cards and the additional incentives, customers email Mack their recorded collection routes. The customer is rewarded $250 in reward cards for each submitted qualified route, with a limit of three per customer. Those that receive charging hardware reimbursement following a purchase or lease are limited to specific charger models and manufacturers.
The next generation LR Electric, launched in March 2022, features 42 percent more energy and a standard 376 kWh total battery capacity offering an increased range. Featuring twin electric motors, the Mack LR Electric offers 448 continuous horsepower and 4,051 lb.-ft. of peak output torque from zero RPM. The LR Electric has a two-speed Mack Powershift transmission, Mack mRIDE suspension and Mack's proprietary S462R 46,000-pound rear axles.
The LR Electric's vehicle propulsion is offered through four NMC (Nickel Manganese Cobalt Oxide) lithium-ion batteries that are charged though a 150 kW, SAE J1772-compliant charging system. The four batteries also provide all power for every onboard accessory, driven through 12V, 24V and 600V circuits. The two-stage regenerative braking system helps recapture energy from the hundreds of stops the vehicle makes each day with an increasing load.
"Mack continues to make investments in e-mobility, and we believe the Electrify My Refuse Route Program is just another example of this," says George Fotopoulos, Mack vice president of e-mobility. "Other examples include the launch of the next generation LR Electric in March, which increased our range and battery capacity, and Vehicle-as-a-Service (VaaS) to help customers better manage the purchase process of the LR Electric truck."
VaaS includes the vehicle chassis, the refuse body, applicable taxes and the Mack Ultra Service Agreement, a comprehensive service plan. Qualified customers can bundle a charger and associated installation costs into a single invoice, an all-inclusive offer that is unique in the industry. VaaS is offered as a five-year lease with single monthly payments and the option to renew.
The Mack Ultra Service Agreement includes all preventive and corrective maintenance (excluding accidental repairs), Mack GuardDog Connect uptime services, roadside assistance, battery monitoring and an industry-leading battery performance guarantee. GuardDog Connect monitors vehicle systems, including battery health and performance, and checks for fault codes and defects reported by the battery and electric components of the energy storage system.
When a critical fault code is detected, Mack GuardDog Connect proactively contacts Mack OneCall agents at the Uptime Center in Greensboro, N.C. OneCall agents support Mack customers by coordinating repairs and service with the Mack dealer network during planned and unplanned service events.
Mack also continues to support its dealers as more become EV-certified. Mack currently has Certified Electric Vehicle (EV) dealers in California, Idaho, Montreal, Quebec and Pennsylvania.
Mack began serial production of the LR Electric in 2021 at its Lehigh Valley Operations facility in Macungie, Pennsylvania, where all Class 8 Mack vehicles for North America and export are assembled.