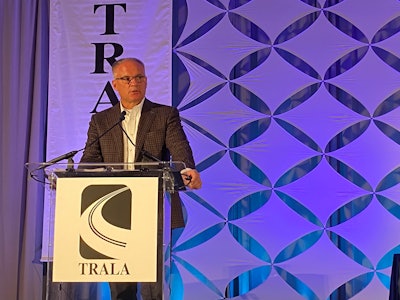 In the wake of Friday's news that California will soon set its own emission regulations, mandating zero-emission commercial trucks by 2040, Dana Chairman and CEO Jim Kamsickas took the stage at Monday's Truck Renting and Leasing Association (TRALA) Annual Meeting with a lot of ground to cover.
He didn't mess around.
Kamsickas says the future of the commercial trucking has never been more uncertain. Transportation is facing its most disruptive transformation "since the horse and buggy was replaced by internal combustion engines."
For the record, Kamsickas points out he doesn't think the latter's days are numbered. "Diesel engines will be a prominent technology for specific uses for decades to come," he says. But he does acknowledge their time as the near-exclusive powertrain of commercial transportation is going to end. It has to. Pressure from the general public and government regulators is only going to continue to drive cleaner technology into transportation.
[RELATED: California becomes first government in the world to mandate electric trucks]
Kamsickas believes success for suppliers, as well their OEM and dealer lease and rental partners, moving forward will not come from fighting or circumventing transportation's inevitable transformation. It will be through taking these changes head on and collaborating to offer comprehensive solutions that will exceed cultural demands and support customers who are adopting the technology of the future.
"It is clear that the tides have started to shift in the direction of disruptive forces," he says. "I truly believe partnership is the new leadership."
Kamsickas says Dana is doing its part to address disruption through innovation. He says Dana is the only commercial vehicle supplier whose technology has received zero-emission powertrain certification from California and it continues to invest heavily in electric vehicle products. Additionally, Kamsickas notes trucking suppliers need to accept that success with EV technology will require more than building a product and putting it to market.
"We are no longer able to operate in a transactional environment," he says.
EV technologies are intricately connected vehicles; all systems must be developed in collaboration. Kamsickas says Dana has identified five systems necessary to operate an EV: e-power system, e-propulsion system, e-accessories, e-vehicle integration, and communication. From Dana's perspective, Kamsickas says this means developing software-defined, fully upfitted EV chassis and maintaining relationships with dealers and service partners to understand and maintain these advanced solutions once they enter operation.
[RELATED: Cummins' CEO says 'incentives and infrastructure' essential to new powertrain acceptance]
Kamsickas says it is true electric vehicles are likely to require fewer service events due to the reduction in componentry but service will still be required. He says renting and leasing companies, dealers and service providers will need highly advanced technical training to understand how these systems operate and have the technical aptitude necessary to troubleshoot and identify service needs. Operational expertise also will be required. The safety risks associated with electric vehicles are numerous. Kamsickas says EV technology providers will have a responsibility to provide technical guidance and training to service providers both for safety and service performance reasons and says Dana has already developed a curriculum for its EV solutions.
Finally, Kamsickas notes the trucking industry needs to accept this technology is coming whether it has asked for it or not. He says regulators have implemented more emission regulations in the last decade than the previous 30 years and that pace is not likely to slow.
"Fighting technology historically has not proven to be a winning hand," he says. "We have to explore how EVs can fit into a positive outcome [for our industry]."