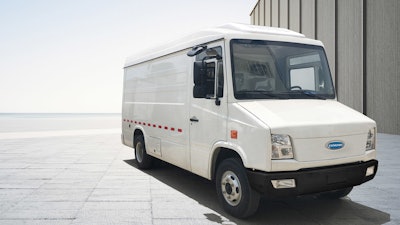 California Air Resources Board (CARB) has certified the Cenntro Electric Group's Class Logistar 400 (LS400) as a zero-emission vehicle in the state of California.
The certification is awarded to vehicle manufacturers who meet specific emissions standards in compliance with CARB regulations. In December 2022, the LS400 received a certificate of conformity from the Environmental Protection Agency. Cenntro says the certification also clears the way for the LS400 to be considered for the California Hybrid and Zero-Emission Truck and Bus Voucher Incentive Project (HVIP). Vehicles permitted into the HVIP program are eligible for monetary vouchers to reduce the total cost for the purchaser.
California as well as 14 other states have adopted vehicle standards under Section 177 of the Clean Air Act, which requires additional approvals beyond EPA regulations. Having received credentials from CARB and the EPA, Cenntro can now sell its LS400 in every state throughout the U.S.
[RELATED: OEMs say massive cash incentives needed for EV adoption]
"This is an important certification for Cenntro. As a next step, we will continue our efforts for consideration in all incentives programs to further support the adoption of the LS400 into fleets large and small," says Peter Wang, Cenntro chairman and CEO. "This certification takes on greater significance with CARB's recent Advanced Clean Truck regulation, which will require that all local delivery and governments fleets must be zero emissions by 2036."
The Class 4 LS400 is designed primarily for urban delivery and freight covering two significant markets including city delivery fleet and upfitters. The vehicle can be upfit to serve a variety of applications and offers a payload of 7,705 lb., a charge time of under 1.5 hours and a range of 84-115 miles.