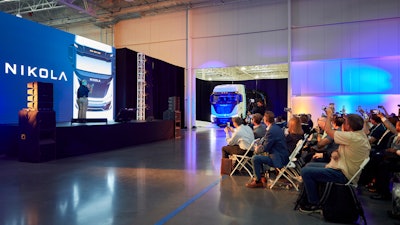 Nikola Corporation announced commercial launch of the Nikola hydrogen fuel cell electric vehicle Thursday at its state-of-the-art manufacturing facility in Coolidge, Ariz.
The ceremony was attended by fleet customers, dealers from Nikola's sales and service network, government officials, prominent Phoenix business and community leaders and the dedicated Nikola team, all of whom played a pivotal role in making this achievement possible. The event also included remarks from Nikola executives and Sandra Watson, president and CEO of Arizona Commerce Authority, truck and hydrogen demonstrations, sustainability impact overviews, production line tours and informal technology Q&As with Nikola engineers on hydrogen safety, the HYLA ecosystem and the Nikola human machine interface system, the company says.
"Today, we mark the official commercial launch of our advanced technology hydrogen fuel cell electric trucks into the North American marketplace. It's a testament to the relentless `can do' attitude of our team and is a step closer to realizing our vision of sustainable and efficient transportation," says Steve Girsky, Nikola president and CEO. "As we head into the fourth quarter, we are focused on delivering our trucks at scale and securing our position as pioneers in the hydrogen refueling ecosystem to support our customers."
[RELATED: Nikola dealer expands to Michigan]
Nikola says its ground-breaking hydrogen fuel cell electric truck features a range of up to 500 miles and an estimated fueling time as low as 20 minutes. This truck is expected to have among the longest ranges of all commercially available zero tailpipe emission Class 8 trucks, with versatile applications ranging from drayage and intermodal to metro-regional truckload and less-than-truckload to certain specialized hauling use cases.
Progressing steadily towards its strategic goals, Nikola and its dealers have received 223 non-binding orders for its hydrogen fuel cell electric trucks from 23 customers. Notable fleet operators such as J.B. Hunt, AJR Trucking, Biagi Bros. and TTSI, are among the growing list of customers committing to the future of sustainable trucking, Nikola says.
Additionally, the company says the completion of Phase 2 assembly expansion at the Coolidge manufacturing facility sets the stage for a new era in transportation. With a versatile mixed-model production line capable of manufacturing both hydrogen fuel cell and battery-electric trucks, the facility stands ready to achieve an annual production capacity of approximately 2,400 trucks across three shifts.
Progress is also evident on the fuel cell power module assembly line in Coolidge, scheduled for completion in Q4 of this year, with Bosch supplying these critical modules.
[RELATED: Cox Automotive to service BYD tractors in U.S. market]
"We are proud to celebrate the launch of Nikola's innovative hydrogen fuel cell electric vehicle production facility in Coolidge," says Watson. "Nikola's investment in Arizona's electric vehicle supply chain and their partnership with leading suppliers are driving further economic growth. We look forward to supporting Nikola's success as the company continues to shape the future of transportation from Coolidge."