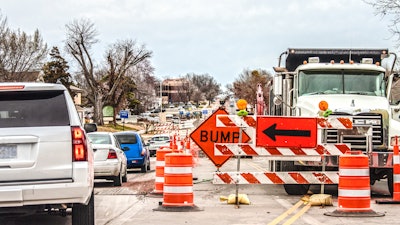 The U.S. Senate has officially passed its $1 trillion bipartisan infrastructure bill. The legislation advanced through the chamber by a 69-30 vote Tuesday.
It will now move on to the House of Representatives for discussion and another potential vote. President Biden has publicly supported the Senate's bipartisan package since its early stages and is hopeful the agreement withstands debate in the House.
"I hope Congress will send it to my desk as soon as possible so we can continue our work of building back better," he tweeted Tuesday.
Written by 20 Senators (10 Republicans and 10 Democrats), the Senate's infrastructure bill is notable for its investment in physical improvements. The plan allocates more than $110 billion to roads and bridges, $66 billion for railways and $55 billion for water infrastructure, among many other investments.
"There's been detours and everything else, but this will do a whole lot of good for America," Senate Majority Leader Chuck Schumer (D-N.Y.) said.
The road construction funding is obviously trucking's biggest win in the legislation, though if the bill becomes law it does feature other investments that will be noticeable for the industry, particularly truck dealers.
[RELATED: Compromise reached as bipartisan infrastructure package survives second vote]
One big change is the creation of a Federal Truck Leasing task force, to be established within 180 days after the enactment of the Act. The task force would be tasked with a variety of responsibilities, including the examination of common truck leasing arrangements to commercial motor vehicle drivers, including lease-purchase agreements; the existence of inequitable leasing agreements; whether truck leasing agreements properly incentive the safe operation of vehicles; and more.
The task force will then be expected to produce a report on the leasing industry, that may propose "recommendations relating to changes to laws (including regulations), as applicable, at the Federal, State, or local level to promote fair leasing agreements under which a commercial motor vehicle driver, including a short haul driver, who is a party to such an agreement is able to earn a rate commensurate with other commercial motor vehicle drivers performing similar duties."
Truck Renting and Leasing Association President (TRALA) Jake Jacoby says the possible task force is concerning.
"As trucking becomes more complex and expensive, the number of small businesses that lease fleets continues to rise across the country," he says. "While TRALA members do not lease vehicles to individuals, nor do our members engage in predatory lending practices, the proposed truck lease task force is troublesome. Having trial lawyers, labor groups, and other anti-trucking advocates involved in a task force that focuses on truck leasing concerns TRALA, given that this group could attempt to go beyond the scope of the announced objectives and try to over-complicate our industry — looking for a solution to a problem that does not exist."
The Senate bill also would require automatic emergency braking systems, improve underride guard regulations, increase oversight for electronic logging device usage and enhance commercial motor vehicle enforcement training and support. The bill touches on non-vehicle issues too, such as the creation of CDL apprenticeship pilot programs for drivers under the age of 21 and the establishment of a Women in Trucking Advisory Board to encourage more females to pursue careers in the industry.
Many organizations within transportation quickly came out in support of the legislation.
The American Trucking Associations' (ATA) President and CEO Chris Spear said, "Passage of this bipartisan infrastructure bill is a groundbreaking step toward revitalizing America's decaying roads and bridges, supporting our supply chain and economy with the foundation they need to grow, compete globally and lead the world ... The men and women who carry this economy on trucks thank those senators who had the courage to bridge the partisan divide, putting the interests of our nation above politics."
Unfortunately, one area where the Senate bill comes up short is it fails to repeal Federal excise tax (FET) on new trucks and trailers.
Repealing FET has been the American Truck Dealers (ATD) top legislative priority for years and several bipartisan bills have been introduced to Congress in recent years to end the century-old new equipment tax. ATD says despite Tuesday's result, it remains hopeful FET can be repealed through another legislative action.
[RELATED: ATD Chair to Biden admin: 'Get serious' about repealing FET]
"ATD continues efforts to repeal the FET as the Senate bipartisan infrastructure bill moves to the House," the association stated. "The Senate infrastructure bill did not modify any of the highway trust fund taxes. Also, as Congress considers the budget reconciliation bill, which is likely to include incentives to accelerate the transition to the latest technology trucks, ATD has been working with other stakeholders to seek opportunities for FET repeal.
"We continue to build support for bipartisan FET repeal legislation, S. 2435, introduced by Sens. Todd Young (R-Ind.) and Ben Cardin (D-Md.) on July 22. Repeal of the FET is vital to modernizing America's heavy-duty truck fleet and spurring the adoption of newer, cleaner trucks on our roads."