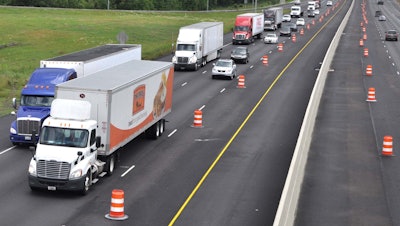 A busy day on Capitol Hill delayed the House of Representatives from taking action on the Senate's bipartisan infrastructure package Thursday.
With government funding set to expire at midnight and in-fighting within the Democratic party threatening both the bipartisan infrastructure agreement and the solely Democrat developed $3.5 trillion reconciliation bill and social policy spending package, House Speaker Nancy Pelosi (D-Calif.) and Senate Majority Leader Chuck Schumer (D-N.Y.) chose to prioritize keeping the government open during Thursday's session.
Using a stopgap bill to fund the government through December, the Senate passed the legislation by a 65-35 margin and the House followed with a 254-175 verdict.
After government funding was secured, the leaders turned their attention to the $3.5 trillion reconciliation bill. Pelosi and Schumer can push the package through both houses of Congress without Republican support, though in recent weeks the biggest challenge to package has come from different wings of the Democratic party.
Progressive House Democrats have stated they will not vote on infrastructure until the reconciliation package is approved. More moderate Democrats, however, have argued the infrastructure package should be passed first before prioritizing the reconciliation package and, in the Senate, moderates Joe Manchin (D-W.V.) and Kyrsten Sinema (D-Ariz.) have stated they cannot support the reconciliation package as currently constructed.
In a statement released Wednesday, Manchin wrote, "While I am hopeful that common ground can be found that would result in another historic investment in our nation, I cannot — and will not — support trillions in spending or an all or nothing approach that ignores the brutal fiscal reality our nation faces."
With defections from Manchin or Sinema enough to kill the package, Schumer and Pelosi are working in tandem to update the package to receive complete Democratic support.
Failure to do so could be major blow for infrastructure investment.
[RELATED: Leasing industry could see changes under Senate bipartisan infrastructure package]
The House had previously committed to vote on the Senate's package by Monday. This week's delay has not derailed the Senate package, but with each passing hour in which Democrats do not reach a consensus on the social policy reconciliation package, the bipartisan package remains at risk.
House Minority Leader Kevin McCarthy (R-Calif.) stated Thursday that a majority but not all House Republicans are expected to vote no the Senate's agreement, which means the House could push through the bill if Pelosi's leadership team can convince most but not all progressive Democrats to support the package — regardless of the outcome of the social spending bill.
The Speaker attempted to show optimism about doing so during a press conference Thursday, telling reporters, "We're on a path to win the vote. I don't want to even consider any other options than that ... We are in it to win it."
Negotiations continued overnight as Congress races to vote on the packages by 3 p.m. ET on Friday. The next House voting day after Friday is Tuesday, Oct. 19.