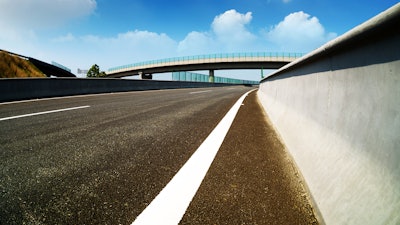 It has been more than a week since the House of Representatives chose to set a Sept. 27 deadline to vote on the Senate's $1.2 trillion bipartisan infrastructure bill. Despite its overwhelming support in the Senate, the bipartisan bill is not a shoo-in to reach President Biden's desk by the end of the month. Disagreements within the Democratic House caucus about supporting the bill in conjunction with a $3.5 trillion budget blueprint continue to be the greatest risk to the bipartisan agreement.
On Aug. 16, nine moderate House Democrats sent a letter to Speaker Nancy Pelosi (D-Calif.) urging the chamber to vote immediately on infrastructure, stating they would not support their party's budget blueprint until the infrastructure package has passed. The move was met with resistance from other Democrats, some who were eager to see both packages pass and others who felt the Senate package was lacking in comparison to the House's own infrastructure bill. The latter group has argued it will not support or address infrastructure until the larger budget package is passed.
The conflicting opinions created a tough path forward for Pelosi, who initially promised not to bring infrastructure up for a vote until the budget was addressed but eventually changed course and was able to coax her party to approve the late September deadline. She said setting a date to address the Senate bill would enable the House to evaluate and vote on the package independently. Yet in the weeks since the date was set, there has been little news from House Democrats on how they will respond when infrastructure is brought up for debate.
What has made news, however, is how the infrastructure bill will be allocated, if it becomes law.
CNBC released a report Tuesday showcasing how much money the White House estimates each state is set to receive for infrastructure investment, with California, Texas and New York pegged to be the largest recipients of the new package. Based on prior legislation, the White House estimates nearly every state would receive at least $1,000 per resident for infrastructure investment.
On a per resident basis, Alaska is the biggest winner under the proposed bill, taking in nearly $6,700 per resident. The Northern and Western Great Plains and Northeast are next best. Montana, Wyoming and the Dakotas would all receive at least $3,000 per resident. Vermont also crosses the $3,000 threshold, with Rhode Island, Delaware and West Virginia taking in between $2,400 and $2,500 per person. Washington D.C. also would earn nearly $4,500 per resident.
[RELATED: Washington can solve the infrastructure crisis (if it wants to)]
California's $44.6 billion allocation is the largest total but because of the state's large population, it would equate to approximately $1,200 per resident. Texas' per resident allocation would be similar. Florida would receive the lowest amount of funds per person at just under $900 per resident, followed by North Carolina and Arizona.
But lower funding per resident doesn't mean the South won't reap the rewards of the package, if it passes.
TPS sister publication Better Roads reported Wednesday a new federal highway, Interstate 14, could be created to flow through five southern states under the Senate agreement. The proposed I-14 would run from near El Paso, Texas, east to Augusta, Ga., covering more than 1,300 miles. Only 25 miles currently exist for I-14 in central Texas. The I-14 amendment was proposed by Sen. Ted Cruz (R-Texas) and Sen. Raphael Warnock (D-Ga.) and was approved by the Senate this week.
"I applaud my Senate colleagues for supporting this bipartisan amendment to designate future I-14 across Texas, Louisiana, Mississippi, Alabama and Georgia so we can begin the necessary work to upgrade this road system and connect strategic military installations across our states," Cruz said.
"This planned route would connect military installations across Georgia and drive economic opportunities to our rural communities," Warnock added.