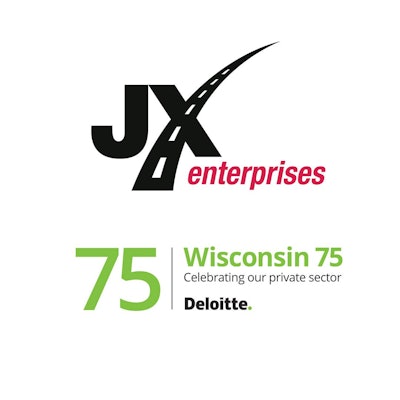 JX Enterprises has been ranked No. 44 on Deloitte's Wisconsin 75, a ranking of the 75 largest private companies in Wisconsin. JX Enterprises has been featured on Deloitte's Wisconsin 75 list for 16 years running.
"It is an honor to be ranked alongside so many notable companies," says JX Enterprises Chief Financial Officer Mark Muskevitsch. "We are thrilled to have been recognized, and it is because of our employees' dedication and passion that we are able to positively impact the communities we serve."
"JX is proud to be on this list as each of these 75 companies plays an important role in powering Wisconsin's economy and community," says Eric Jorgensen, CEO and president, JX Enterprises. "Our mission is to continually improve, strengthen, and build value for our associates, communities, customers, and industries we serve. To achieve the vision of building a vibrant community and to create a culture of giving, JX has established the JX Gives Back Family Foundation."
Deloitte's annual Wisconsin 75 list salutes the largest privately held Wisconsin-based companies. Wisconsin 75 award winners are selected based on annual sales revenue. JX corporate strategies incorporate diversity, inclusion and equity to increase innovation and improve fairness.
To be eligible for Deloitte's Wisconsin 75 recognition, companies must have majority ownership by an individual(s), family, employee stock ownership plan or private equity firm. Public companies are eligible when greater than 50 percent of the value or vote of the shares are owned by individuals, family, an employee stock ownership plan, or private equity. Additionally, companies must have annual sales revenue of at least $50,000. The Wisconsin 75 excludes cooperatives and accounting, tax, legal and consulting service companies.