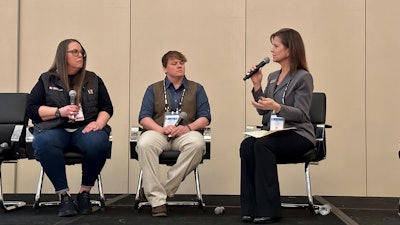 Beth Colvin
Cindy Bartow asked the room how many people had female technicians on their shop floor.
A few hands went up.
Bartow then asked how many would choose to have a woman on their shop floor.
A few more went up. About half the room's hands were in the air.
Bartow, director of industry relations at WyoTech, moderated the Industry Rockstars on Technicians and Service panel Tuesday at SOLD! during Heavy Duty Aftermarket Week 2023 in Grapevine, Texas. She and her panelists, Jen Nedrow, branch manager at Betts Truck Parts & Service, and Bonnie Greenwood, senior technician, FedEx Freight, set out to change the number of hands in the air.
Greenwood says she's still kind of new to this industry. But that doesn't mean she's not accomplished. She was the first woman to win TMC FutureTech and came in second in the professional side, TMC SuperTech.
"I call it first loser," Greenwood says, "But the guy I lost to is an incredible mentor and I'd lose to him any day."
[RELATED: Training is the future of diagnostics, experts say]
Nedrow has been in the industry longer.
"I was looking for a career that wasn't a saturated market," Nedrow says. She had a drag-racing car and an awe of the engine.
"When you turn a key, all of the things that have to talk nice to make a car operate properly," she explains. She went to technical school and has been in the industry for 20 years.
"It takes a village to raise a technician," Nedrow says, pointing out that having people that supported her everywhere she worked was key to her making it this long in the industry. "I would not be who I am today if I hadn't had those few people everywhere I went that said, 'Yeah, you can do it. We can do it together.'"
Speaking of villages, the three women say this panel gave them the opportunity to put women technicians together to talk about their successes and challenges.
"I have a new mentor," Greenwood says, gesturing to Nedrow.
[RELATED: SOLD! panelists debate the heavy-duty powertrains of the future]
Both women say that getting the number of women technicians higher than 2% needs to start in grade school.
"Teachers have to believe that women can do this job," Nedrow says. Greenwood agrees, saying the industry as a whole needs to do a better job of getting the word out that the opportunities are there in the first place.
"We don't need special treatment," she says. "We need treatment like we're equal. That's it."
But they also don't want to be part of a quota and want companies to be more than just talk when they talk about diversity. Businesses should back up that talk with action.
"You can put a poster on a wall that espouses company culture," Greenwood says. "But unless you actually act on it, you've wasted money on a poster."