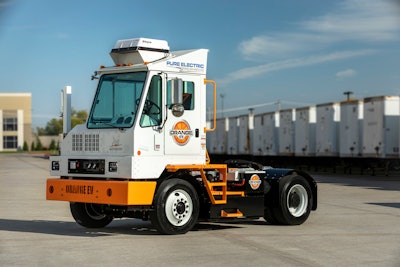 Orange EV is expanding to Canada, hiring Roberto Bragagnolo as country general manager.
Bragagnolo comes to Orange EV after serving as general manager of Finning, the world's largest Caterpillar dealer and also spent two years with Export Development Canada.
Orange EV also recently announced plans to move to a larger U.S. production facility in 2023 that will produce up to 1,800 terminal trucks per year in single-shift operations. It's Canadian division is OEV Canada Inc. It will provide in-country service and parts support.
[RELATED: Penske Truck Leasing adds Orange EV terminal trucks]
"Orange EV has long anticipated this expansion in Canada, and with the company's proven presence in cold-weather markets such as Minnesota, western New York and already in Ontario, it's a natural move that will benefit North American customers and the environment alike," Bragagnolo says.
Canada offers $100,000-per-truck discounts through incentives for medium- and heavy-duty zero emission vehicles, intensifying demand for Orange EV vehicles, the company says.
"Orange EV's mission is to be a leader in the effort to positively impact climate change on a global scale, manufacturing heavy-duty EVs that are a superior financial and operational choice," says Orange EV co-founder and CTO Kurt Neutgens.