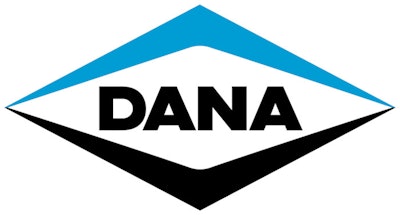 Dana's second-quarter sales hit $2.75 billion in the second quarter, the company says.
"Dana had another strong quarter, with sales of $2.75 billion and a 250 basis-point margin improvement," says James Kamsickas, Dana chairman and CEO. "I am extremely proud of how the Dana team is executing across our operations, including a substantial number of launches for both electrified and traditional programs, as well as our ongoing transformation toward zero emissions. The challenging production environment has persisted, but we have positioned ourselves well to take advantage as supply chains and customer order patterns continue to stabilize. As a result, we expect our momentum to carry through the back half of the year as demand remains strong across each of our end markets."
[RELATED: Dana expands Spicer Select drivetrain coverage]
Second-quarter sales represent a $162 million increase over Q2 2022, a jump Dana says is driven by market demand, cost-recovery actions and conversion of a sales backlog.
Adjusted EBITDA for the Q2 2023 was $243 million, compared with $162 million in 2022. The 250 basis point improvement was driven by more sales, net customer pricing and recovery actions, and lower net commodity costs, Dana says. Improvements were offset, however, by production inefficiencies from uneven demand schedules and negative exchange rates.
[RELATED: Dana adds sizes to Victor Reinz sealant product line]
Dana's net income was $30 million or $0.21 per share, compared with a net income of $8 million and $0.08 per share in 2022. Adjusted net income was $54 million, and diluted earnings per share were $0.37; in 2022, that was $12 million and $0.08 per share, respectively.
Cash flow operations in the second quarter, 2023, were $256 million, compared with $257 million in the same period of 2022. Free cash flow was $134 million ($167 million, 2022) and Dana says that difference was due to higher capital spending for a new business backlog.
[RELATED: Dana extends partnership with PhaseZero]
"Strong demand, great execution and improved market dynamics have allowed us to increase our full-year guidance for 2023," says Timothy Kraus, Dana's senior vice president and chief financial officer. "Throughout the second half of the year, we remain focused on delivering our program launch commitments, offsetting external cost increases, and continuing to win new business."
Dana revised its 2023 financial sales targets from $10.45 billion to $10.95 billion. Adjusted EBITDA moved from $800 million to $900 million, an implied adjusted EBITDA margin of approximately 7.9% at the midpoint of the range. Diluted adjusted EPS was revised from $0.65 to $1.05. Operating cash flow went up from $560 million to $610 million and free cash flow was adjusted from $50 million to $100 million. The company cautions that this assumes no customer labor disruptions for the rest of the year.