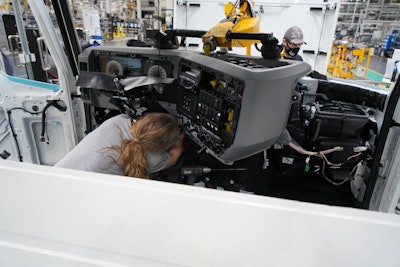 A work stoppage at Mack Trucks' assembly sites in three states could be nearing its conclusion as United Auto Workers (UAW) informed Mack that it will hold a vote next week on the five-year agreement negotiated by both sides.
The vote is tentatively scheduled for Nov. 15-16.
The tentative agreement employees will vote on includes the wage and benefit package the company offered at the master contract level and tentatively agreed to by the parties on Oct. 1, Mack Trucks said via statement, as well as a number of revised terms negotiated with the UAW on local agreements impacting Mack's Lehigh Valley, Pennsylvania, Hagerstown and Baltimore, Maryland, and Jacksonville, Florida sites.
Per the terms of the October agreement, the average wage increase over five years would be 36%, with an average immediate wage increase for all covered employees of nearly 15%. For employees not yet at the top rate (nearly half the total workforce) the average increase over five years would be 55%, and the average immediate wage increase would be more than 20%. Most employees already at the top rate would receive an immediate wage increase of 10%, and up to 20% compounded over five years, even though company research shows that these employees are already above market rates, Mack Trucks said.
Premiums for the company's healthcare coverage, which have not increased in more than six years despite a 66% increase in the company's costs over the last decade, according to Mack Trucks, would remain unchanged for five more years.
With the Oct. 1 tentative agreement, Mack Trucks seemingly then side-stepped a strike, but Mack's UAW members – 3,900 employees – ultimately shot it down by 73%. Those workers went on strike a week later at Mack facilities in Pennsylvania, Maryland and Florida.
UAW also appears to be winding down a series of labor strikes that were ongoing simultaneously at General Motors, Ford and Chrysler conglomerate Stellantis. Those agreements are currently being voted on by local members at the individual companies.