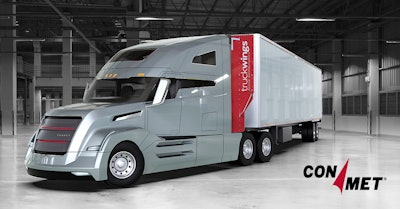 ConMet has acquired TruckLabs, a technology company focused on reducing carbon emissions and improving operational efficiencies for fleets.
The acquisition is part of ConMet's 60-plus year commitment to designing, engineering, and manufacturing revolutionary technologies for heavy-duty commercial vehicles, the company states.
TruckLabs is the maker of TruckWings, a truck-mounted aerodynamic device that automatically deploys at highway speeds to close the gap between the back of the cab and front of the trailer. TruckWings reduces drag, improves stability, and increases fuel efficiency by 3-6% — saving over 1,100 gallons of fuel and 15,000 lb., of carbon dioxide emissions for each diesel truck per year, or extending the range of electric and hydrogen vehicles.
[RELATED: ConMet hub named standard for chassis trailers]
Following the 250% year-over-year growth of TruckWings, this strategic investment by ConMet will enable continued growth and impact for TruckWings in reducing emissions in the commercial vehicle industry. Together, the team will help OEMs and fleets save money, meet climate goals, and achieve compliance with emissions standards, the company says.
"TruckLabs' innovative TruckWings product is an ideal addition to ConMet's portfolio," says John Waters, president of ConMet. "Their technology, which has been proven through 750 million logged highway miles, aligns well with our goal of providing OEMs and fleets with forward-thinking, profitable solutions to improve fuel efficiency and reduce carbon emissions."
Through TruckWings' telematics technology, every mile is tracked to provide real-time reporting. ConMet says the data shows the product has saved a total of 80 million lb., of carbon dioxide since its launch in 2015. Every TruckWings-equipped commercial vehicle is equivalent to removing two cars from the road. As the industry explores alternative fuels like electric and hydrogen, improved aerodynamics will play an ever more important role in addressing range extension and weight reduction, the company adds.
[RELATED: ConMet expands eMobility operation through acquisition]
"ConMet is the perfect partner to introduce our product to a wider customer base, and adds much needed scale to our manufacturing capabilities," adds Daniel Burrows, founder and CEO of TruckLabs. "Together, my team and I are excited to join with ConMet to supercharge our impact on our customers' fuel costs and climate goals."
Under the terms of the agreement, TruckLabs will become a wholly owned subsidiary of ConMet. The acquisition was completed on Nov. 2, 2023. Both companies will work closely in the coming months to ensure a smooth transition for employees, customers, and partners, ConMet says.