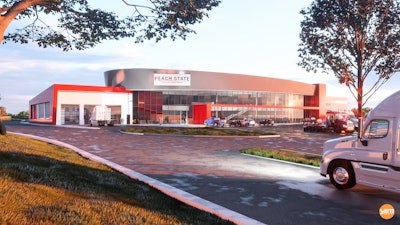 Peach State Truck Centers will soon host a groundbreaking ceremony for a new dealership in Villa Rica, Ga. The official groundbreaking is scheduled for 10 a.m. ET, on Nov. 14. The event will include guest speakers such as the President and Dealer Principal of Peach State Truck Centers, Rick Reynolds, and local dignitaries.
Located at the corner of Edge and Liberty Road off exit 26 on I-20, the new Peach State Truck Centers dealership in Villa Rica is strategically positioned to serve the growing needs of the commercial trucking industry in west Georgia and Eastern Alabama.
Peach State says the new facility will sit on 30 acres right off the interstate. This state-of-the-art facility will feature a wide range of commercial vehicles, including new and used trucks from Freightliner, Western Star vocational trucks, Thomas Built Buses school buses and Spartan fire trucks and other emergency vehicles. The location will also have at least 40 service bays and a parts warehouse with significant inventory added to their already $60,000,000 on hand inventory across their dealerships.
[RELATED: Truck orders slip a bit but mostly strong in October]
The company says this move will support the growing transportation needs in Georgia and eastern Alabama.
"As the Atlanta market continues to expand west from our Atlanta metro locations and east from our Birmingham and other Alabama locations, we want to be able to provide a wide range of services to the commercial trucking industry along that I-20 corridor." says Greg Althardt, Peach State's COO.
The new Villa Rica location will mark Peach State Truck Center's 14th location, and its opening in the fall of 2025 will mark the beginning of consolidation for Peach State's Austell, Georgia location.
"Georgia has been an amazing state to do business in for 50 years for our company. The growth in the Atlanta metro area, particularly as a transportation hub, has allowed us to grow our small family business of a single truck dealership to over 15 dealerships. Our customer base here in Georgia has supported us, and this new location will allow us to continue to support them where they need us. We are immensely proud to be a part of commercial growth in Georgia," says Reynolds.
The Villa Rica location is expected to bring approximately 100 jobs to the Villa Rica and Carrollton area, Peach State adds.
By partnering with customers and suppliers, Peach State commits to providing exceptional products and services delivered by caring competent and confident professionals who strive to create positive customer experiences in every interaction. Peach State states it is excited to become a productive member of the Villa Rica community.
"We are going to create a state-of-the-art, pet-friendly facility, with modern technology, expanded parts inventory, and innovative amenities that puts our customers' needs at the forefront of our design concepts. We're going to make it really easy for our customers to transact business with us," adds Althardt.
The groundbreaking for Peach State Truck Centers in Villa Rica promises to be a landmark event for the company and the Villa Rica community.