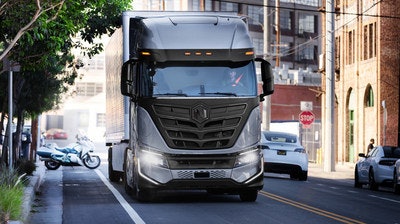 Nikola Corporation and Engs Commercial Finance Co., on Tuesday announced a signed agreement to facilitate sales of Class 8 Nikola Tre battery-electric vehicles (BEVs) and Nikola Tre hydrogen fuel-cell electric vehicles (FCEVs).
Working directly through the Nikola dealer network, Engs says it will offer customer finance solutions for the purchase of Nikola vehicles, charging assets and infrastructure requirements to offer a broad range of financial solutions to Nikola customers. The agreement furthers Nikola's commitment to secure partnerships with well-established transportation finance specialists to offer customized financing solutions for Nikola dealers and customers. Engs will also help Nikola and its dealers facilitate sales by offering floorplan financing solutions to the dealers, parts and service financing and other related capital requirements.
[RELATED: Nikola taps Alta Equipment as Arizona dealer]
"Our partnership with Engs will strengthen our ability to help even more fleets transition to zero-emissions by offering a variety of innovative solutions for those customers that require alternative financing options," says Nikola Chief Financial Officer Kim Brady.
Start of production of the Tre BEVs began last week at Nikola's Coolidge, Ariz., manufacturing facility. The Nikola Tre FCEV deliveries are anticipated in 2023.
"Engs is very excited to partner with Nikola. We share many of the same goals on sustainability and technology," says Jim Freund, Engs executive vice president and chief marketing officer. "We look forward to working closely with Nikola and their dealer network to provide the best customer finance products in the market to help promote the sale of Nikola trucks."
Tom Canepa, Engs' vice president, Sustainable Development Solutions, adds, "Working with companies that promote Sustainable Development Goals initiatives is very important to us, and we are proud to partner with Nikola and its dealers."