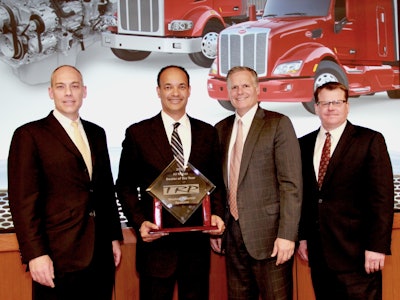 Washington-based Western Peterbilt – Spokane was named the TRP Dealer of the Year for its sale and support of TRP's all-makes truck, trailer and bus parts, Peterbilt Motors Company announced during its annual Dealer Meeting.
The event was held at the PACCAR Engine manufacturing facility in Columbus, Miss.
Frank Anglin, Dealer Principal of Western Peterbilt – Spokane (Wash.), accepted the award.
"TRP allows us to serve all of our customers' parts needs regardless of the makes and models they operate," he says. "I congratulate the entire team at Western Peterbilt – Spokane for helping make TRP products a leading option for customers in our region."
"Our nationwide network of dealer retailers is one of the strengths of the TRP brand," Darrin Siver, PACCAR Vice President and PACCAR Parts general manager, says. "Western Peterbilt has made an outstanding commitment to servicing customers with quality TRP products for all makes of trucks, trailers and buses."
 "They have embraced the TRP store within a store strategy and have helped brand TRP within their parts retail area and on their delivery vehicles," Bill Kozek, Peterbilt General Manager and PACCAR Vice President, says.