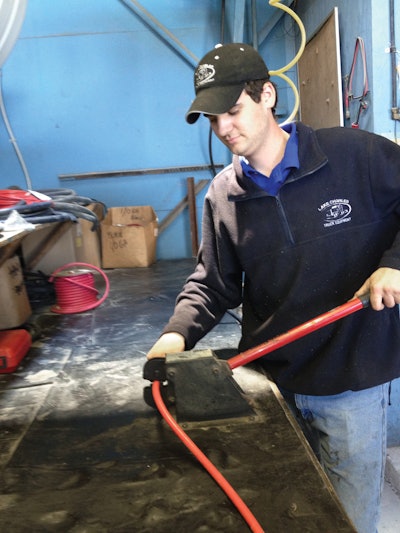 When you make a living in the distribution business, you know what it's like to battle on price. Customers are always looking for the best deal, and if you only offer them the part they need, you better be affordable.
Fortunately for heavy-duty aftermarket distributors, commercial trucking fleets also appreciate value. While price is important, most fleets are willing to spend an extra dollar here and there for quality customer service, industry expertise and value added options from their distributors.
One way to wrap all of those characteristics together is to become a specialist.
Specialization in the aftermarket doesn't require abandoning one aspect of your business for another; nor does it require investing overwhelmingly in one department at the expense of others. In this industry, specialization is simply the idea of finding something your business is good at and expanding your product offering and services in that area.
It's all about finding your niche. The one thing your business can do to stand out.
The aftermarket is filled with businesses that have done just that. By following their lead, maybe you too can become a successful specialist.
TransAxle
Based in Cinnaminson, N.J., TransAxle has spent the last 34 years working to become one of the most respected transmission and differential distributors in the Northeast.
Originally founded in Canada as a drivetrain remanufacturing business, TransAxle now has six remanufacturing plants and 19 distributor locations stretching from Maine to South Carolina, and as far west as Tennessee. The company produces rebuilt automatic and manual transmissions, differentials, steering boxes, brake components and hydraulic systems to the heavy-duty aftermarket.
In addition to its rebuild business, TransAxle also sells and services OE aftermarket versions of those same components.
John Ferry, general manager at TransAxle, says his company's maturation from a small remanufacturer into a nationally known business has been driven by customer demand.
"Our growth was really about our customers. They let us know," he says. "As we grew, we looked at products we thought we could be successful with that had strong customer demand."
Since its inception, Ferry says TransAxle has made a point of only expanding in areas where it can maintain its level of expertise and specialization. TransAxle doesn't sell filters, trailer lamps or engine components — only the core parts of its remanufacturing business and related components.
While that eliminates the business' ability to improve sales numbers with fast-moving, low-margin parts, it assures customers that when they come to TransAxle for a component, they will be serviced by a business that knows the part as well as anyone.
"People call us because they know we get the truck [back] on the road fastest," Ferry says. "Our guys take the guess work out of it."
He says that's what makes specialization such an enticing business opportunity. You can become a definitive expert. Customers like having someone they know they can call.
"Our people make it easy for our customers," he says.
Point Spring & Driveshaft
The same can be said for Point Spring & Driveshaft. Opened as a spring manufacturing business within Detroit Steel Products in 1926, Point Spring & Driveshaft has grown from a single location to a distribution, service and remanufacturing business with locations in three states.
A generalist approach to distribution helped Point Spring & Driveshaft win Truck Parts & Service's Distributor of the Year award in 2005, but Bill Ryan, CEO, says the company's bread and butter still remains right there in its name. Point Spring & Driveshaft's service locations are driveshaft experts.
"We can service what we sell," he says. "Sometimes if you're just selling parts you don't get the whole picture. We don't work on engines, but from the transmission back we can do it all."
In addition to its comprehensive service facilities, the company also rebuilds driveshafts, transmissions, differentials, electrical components and operates a brake relining facility. It's also in the process of expanding its gearing rebuilding and service business, which Ryan says will provide the business another area of specialization and expertise.
He says the company looked at expanding its gearing operation for nearly a decade before finally making the jump almost two years ago. Judging by customer responses, Ryan says it entered the market at the right time.
"I think that's partly why we're 87 years old," he says. "One of the best things we have going for us is our customer testimonials."
Ryan says it's a good idea to gauge your customers and your market before committing to specialization. And if you'd like to specialize in service or remanufacturing, make sure you're up to date on the newest technology, he advises.
"Getting into that business is difficult. You need to look at what some of the better manufacturers are doing before you do anything," he says.
Malmberg Truck & Trailer Equipment
Remanufacturing also has presented Malmberg Truck & Trailer Equipment an opportunity to specialize part of its business.
The Canadian distributor is currently working to expand its remanufacturing offering to include a variety of transmission, differential and driveline components that it will sell at all of its parts and service locations.
Mario Oliveira, manager of the powertrain division at Malmberg Truck, says he's grown up in the remanufacturing business, and says his company decided to enter the market after research and customer demand dictated it was an area where Malmberg could succeed.
"You pick the apple closest to you in the tree," he says. "When you see a niche that's right there for you and you can grab it, you go for it."
In addition to its parts and service business, Malmberg also specializes in custom truck body building. Adding a strong remanufacturing presence to that vast product offering will allow the business the ability to service customers from all corners of the aftermarket.
In the never-ending battle for the undecided customer, that's a significant advantage.
"I think [specialization] is definitely a competitive advantage," says Oliveira. "When a customer knows you can help him he's going to come to you."
But specialization is more than just offering products and services. A true specialist also has to be an expert, and know its area of the aftermarket better than anyone.
It took Oliveira his entire career to become a remanufacturing expert. Yet in spite of his knowledge, he says he still dedicated months researching remanufacturing before Malmberg Truck jumped in.
He advises other distributors to do the same.
"Do your homework, do your homework, and do your homework again," he jokes. "Even when you think you've got it done do it one more time.
"You have to know exactly what you're doing."
Lake Charles Truck Equipment
Down in Louisiana, Lake Charles Truck Equipment has made it a point to do it all. The company provides a wide selection of parts in its distribution business, and each location provides service. But in spite of that vast product offering, the company has still discovered an area for specialization: air conditioning hoses and components.
Don Kelley, president at Lake Charles Truck, says his company has been selling rebuilt AC hoses and components for many years. The operation is just a small part of the company's overall business, but it's been so successful that fleets, owner-operators and some dealers have come to rely on Lake Charles for AC parts and repair.
"It's become something that brings customers to us," he says.
That success has motivated Kelley to grow the department even more. In late May, Lake Charles Truck Equipment expanded its AC product offering at its locations in Broussard and Shreveport, La. Kelley says becoming an AC specialist wasn't something his company set out to do when it started rebuilding hoses and clamps, but when it was clear how much customer loyalty it created it made sense to expand.
Kelley says the AC expansion took months of planning.
"I had the manufacturers come in and work with our people and help show them how to sell everything," he says. "I outlined with them what I wanted them to do [with our salesman], so our people would be comfortable selling it."
Moving forward, Kelley is optimistic about the expansion. He says gaining market share in one area could help the entire business.
"Maybe that one guy who wouldn't come here any other time comes in for those specific parts, then once he's here he picks up some other things so he doesn't have to run all over town," he says.
Tidewater Fleet Supply
Unlike some distributors above, Tidewater Fleet Supply does not provide service as a way to specialize its business. The former Distributor of the Year nominee has, however, created an innovative way to turn its distribution and inventory management expertise into an area of specialization.
In addition to its public locations, Tidewater Fleet Supply also manages the parts procurement processes for municipalities and corporations.
The company entered the business unexpectedly nine years ago when one of its customers, the City of Chesapeake, Va., put its parts procurement operation up for bid.
"We felt like if we didn't bid we were going to lose one of our best customers," says Allan Parrott, president at Tidewater Fleet Supply.
Though the company had no formal experience working within a municipal operation, Tidewater Fleet Supply was familiar with Chesapeake's needs and the components it required. The business drafted up a bid, and in its first foray into the parts procurement business, locked up the third-largest city in Virginia.
"We put together a really good proposal and were able to win the business," Parrott says. "I was pretty proud of my folks and what they were able to put together."
In the years since, the company has expanded its procurement business with other municipalities. Each location is operated independently as a Tidewater Fleet Supply site, with all parts being used by the municipality.
Parrott says the growth shows how profitable specialization can be for distributors willing to evolve.
"Had we not taken that opportunity and passed on it because it wasn't what we did, our company would look a lot different today," he says. "I think that's an advantage we have as smaller businesses. We're a little more nimble and able to change. But it doesn't just happen. You have to be creative and look for opportunities."
Truck Equipment, Inc.
Specialization is at the heart of the operation at Truck Equipment, Inc. The Wisconsin-based company entered the aftermarket as a fabrication and repair facility in 1959, later adding trailer sales and eventually distribution to its operation.
The trailer sales addition further bolstered the company's status as a trailer service and fabrication expert. The business now operates as a one-stop trailer shop, with offerings designed to service customers in all areas of the aftermarket, says Jordan Schroeder, vice president and CFO.
"All of what we offer fits together," he says. "In the early days we actually built some semi-trailers and fabricated a variety of body parts and equipment. When the opportunity presented itself to partner with a trailer manufacturer it made sense for us to become a dealer."
Schroeder says Truck Equipment, Inc. also provides trailer leasing, a graphics center and a hydraulic department. With that much expertise, the company has positioned itself to build reliable, long-term relationships with customers requiring trailer assistance.
"Having a full line of products and services under one roof definitely attracts and retains customers," he says. "One sale essentially can create multiple sales."
But like the distributors above, Schroeder warns distributors to be cautious before jumping into specialization.
"Oftentimes a specialized area can appear easy to move into, but you have to be prepared to produce a quality product," he says.
Truck Equipment, Inc. has more than 50 years of service experience to fall back on as a trailer specialist, yet Schroeder says the company remains committed to evolving in its marketplace.
Specialization takes more than a brainstorming session.
"The last thing you want to do is invest your time and dollars into an area you cannot provide enough dedication and expertise to in order to make it successful," he says.