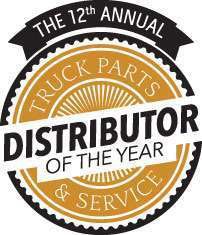 Drumroll, please.
The 2013 finalists for Truck Parts & Service's Distributor of the Year are Long Island Truck Parts, led by Bobby Naples, president; MacPek, led by Jean-François Pouliot, president; Point Spring & Driveshaft, led by Bill Ryan, CEO; Sadler Power Train, led by John Sadler, president; and Truck Supply Co. of South Carolina, led by Edward Neeley, president.
Now in its 12th year, this year's finalists were selected for the first time through a three-month open nomination process held on this site through late June. Nearly 40 distributors were nominated for the award, with the top five garnering the most votes and being named finalists.
Each distributor will be briefly featured in Truck Parts & Service's daily newsletter over the next few weeks, and in depth in Truck Parts & Service magazine starting in August.
The 2013 winner will be announced live at the opening general session of HDAW 2014, set for 8:30 a.m. Tuesday, Jan. 28, 2014 at The Mirage in Las Vegas.
Congratulations to our finalists and all of our nominees!