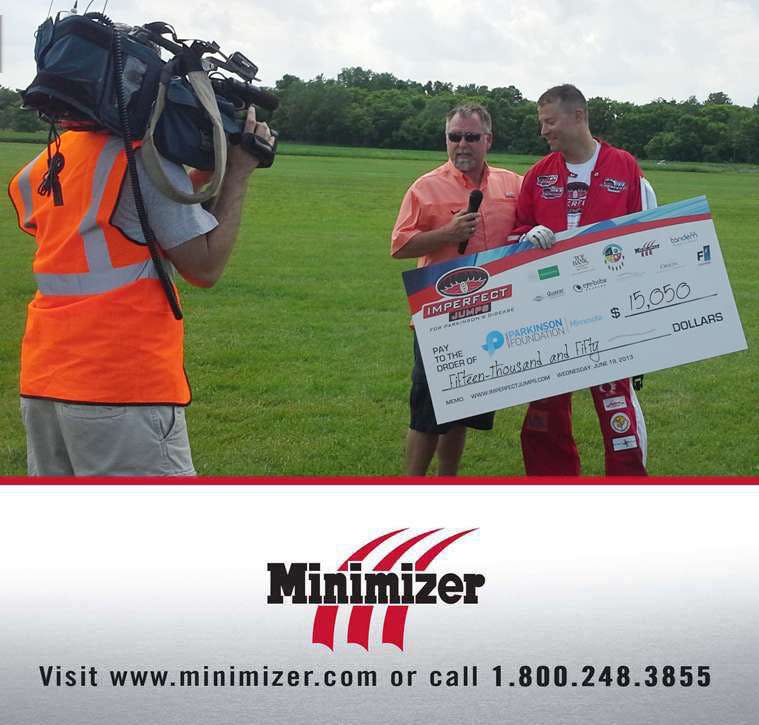 Minimizer takes pride in supporting many local and national charitable causes. The company says it feels it is important to support those in need across the county.
So when Kevin Burkart, close friend of Minimizer Chief Visionary Officer Craig Kruckeberg, needed help raising money for Parkinson's disease, the company was quick to step up.
Burkart's campaign for raising funds and awareness for Parkinson's disease is wrapped around his completing as many skydives as possible in 24 hours. In 2008 Kevin completed 100 skydives in one day and raised $48,000 for the cause. In 2010 he completed 150 skydives in one day, raising another $78,000. In 2012 he was slated to attempt 300 skydives in one day, but shortly before the event he permanently lost the use of his left arm from a snowmobile accident.
Burkart returned to the skies in 2013 with one arm and was still committed to making a difference for Parkinson's disease.
On June 19, 2013 Kevin broke the record with 151 one-armed skydives by jumping every four minutes for nearly 17 hours. Minimizer donated $25,050 of the $135,000 total raised at this year's event. The company was a premier sponsor for $10,000. It also donated $50 for each of Burkart's jumps and a bonus of $2,500 for every 50 jumps he completed.
This year's effort, originally named "The 300 Perfect Jumps for Parkinson's Disease," was renamed Imperfect Jumps for Parkinson's Disease, the company says. Because of the increased danger of jumping with only one arm, Burkart did not want a specific number of jumps attached to the event.
"Burkart's tenacity, despite a life changing accident, to enhance the lives of people like his father who suffer from Parkinson's, strongly reflects Minimizer's core values as a family owned company and manufacturer of tough trucking parts for tough people," says Kruckeberg. "A good friend of mine was recently diagnosed with Multiple Sclerosis, which is in the same family as Parkinson's. The lives of the people living with these types of neuro-degenerative diseases need to be enhanced and protected.
That's what Minimizer aims to do every day with our products, enhance and protect. And that's what we aim to do every day for our families, friends, and customers."
Parkinson's Disease is the second most common neuro-degenerative disease and effects 1 in 100 people over the age of 60.
"I can't thank Minimizer enough for their vision, generosity and willingness to assist with a cause like this," Burkart says, "Many people will benefit from the event both inside and outside of the trucking industry. It's good to give and we made a difference."
Proceeds from the event go to patient care and comfort, as well as research for a cure to Parkinson's, Minimizer says.