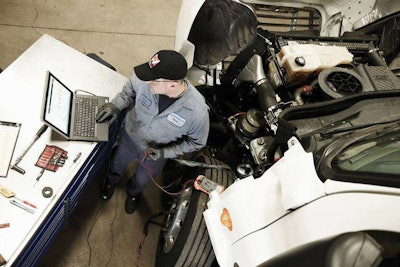 The two highest variable costs in commercial trucking are fuel and maintenance. While the former grabs its fair share of headlines, maintenance isn't something fleets take lightly.
A strong maintenance program greatly reduces a fleet's overall expenses.
This is an area where your service department can be invaluable.
According to a survey released earlier this year by MacKay & Co., more than 80 percent of fleets are currently looking to outsource segments of their maintenance and service operations to reduce costs.
Fleets don't have the time or staff to do everything anymore, and they're willing to consider alternatives.
Developing an efficient, wide-ranging preventive maintenance (PM) program can take advantage of the opportunity customers are providing and ultimately benefit both sides.
To fleets, there is no more vulgar word than "downtime." Having a truck and driver sidelined due to a breakdown limits the amount of freight that can be hauled, and money that can be made.
Preventive maintenance helps minimize that downtime.
The services offered in most PM stops today are standard, but how they are recorded and monitored are not. Service providers that offer high-quality PM tracking and evaluation have a significant selling point in the marketplace.
Any service facility can do an oil change. It's the shop that also provides analysis on how that oil performed and maintenance advice from that analysis that ultimately wins an outsourcing fleet's business.
And thanks to advanced management software programs, service data — once used just to document past work — can now be analyzed to uncover performance trends, potential failure risks and future service needs.
The days of reactive-based maintenance are over, says Adam Madsen, lead product owner at Karmak.
"The really large fleets have identified the PM is the best way to save money on maintenance," he says. "They've identified that when you save money on maintenance you really make money, and that keeping a truck breakdown free is the only way to do that."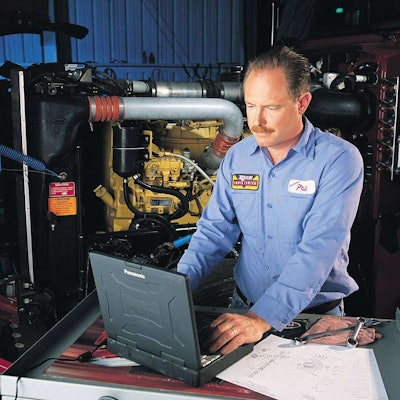 A value-added PM offering has multiple selling points for service providers, says Madsen, who recently co-authored a white paper with Karmak Service Product Owner Jason Goby on how data collection and analysis can benefit a service provider's operation.
According to the duo, some key benefits include allowing service providers to help customers develop more accurate PM intervals, identify possible component failure risks and bundle services to minimize downtime.
"If you can reduce a customer's downtime through PMs, even if they are more expensive at the time, the actual bottom-line profitability for the fleet goes up," says Michael Riemer, vice president of products and channel marketing at Decisiv.
Service shop management and diagnostic software are now built with the capability of evaluating a vehicle's maintenance history during every PM stop. The technologies identify service and wear trends over time, and allow a technician to make an informed decision about the truck's current maintenance needs.
Riemer says Decisiv's platform automatically provides alerts and notifications when vehicles are due for maintenance, pending PM information during service events and a summary of possible future maintenance needs during service events based on previous service and maintenance history.
All of this allows a service provider to give a customer a fully-formed report on a truck's current performance and advice on future needs, he says.
And when more service work is needed, Scott DeGiorgio, general manager of heavy-duty truck repair information at Mitchell 1, says his company's software provides information for all parts and tools necessary to complete any repair, and the time associated with the work.
For a customer focused on minimizing downtime, this information is invaluable.
"Having that visibility and reporting on what is being done gives [customers] the ability to make better decisions," Riemer says.
Joe Monteleone with WheelTime fleet services agrees.
"When a fleet sees a trend where overall maintenance costs start to come down from [analysis] they start to see the value in it," he says.
Offering supplier analysis programs also can help market a service provider's PM program, says John Gaither, director of heavy-duty product engineering at Luber-finer.
For example, possible risks identified during oil drains or from other resources can be quickly verified with testing and research, he says. Luber-finer offers oil analysis to all of its customers through a testing facility. Gaither recommends using the technology to any service provider looking to maximize its PM offering and bring in new customers.
"A Class 8 tractor is a tremendous investment and successful fleet managers and owner operators understand that very well," he says. "It's expensive to do maintenance and you don't want to overdo it."
He adds, "Fleets want to push out maintenance as much as they can but you have to have the correct data to support making changes."
Goby says customers are willing to accept suggestions for additional service work during PM stops if a service provider can prove long-term benefits.
A customer might not listen to an upsell on a part they don't view as failing, but if you can provide evidence from past uses that it's nearing the end of its useful life the customer will be much more receptive to the replacement, he says.
"Being a trustworthy shop where customers know their truck will be serviced the right way — there's room in the industry to build a business on that," Goby says.
Especially as an ever-rising number of fleets come to the realization that outsourcing service and preventive maintenance can reduce their overall costs, DeGiorgio says.
"To be successful in this marketplace you have to keep your costs down and keep the vehicle on the road," he says. "Preventive maintenance is a significant part of that and more and more fleets are starting to identify that."
Adds Gaither: "The heavy-duty vehicle has a complicated story to tell. It's almost like a detective novel. It's telling you what's going on, you just have to be listening and pay attention to what it is saying."
Providing service and maintenance analysis allows you to do just that.