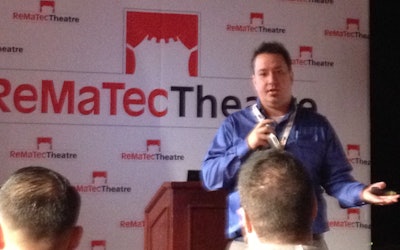 The Internet is a vast place and if your business isn't on there, you're leaving a lot of money on the table.
Chris Walters, with Lester Catalog Company, led an "Internet marketing 101" session at ReMaTecUSA at the Rio Hotel and Casino in Las Vegas this week, and said an effective Internet presence can be had without investing a lot of money and without a dedicated IT staff.
However, the key to being successful with an Internet strategy is setting expectations and avoiding false promises from e-vendors.
"Marketing and websites don't make you any money," Walters says. "Anyone that tells you anything different is selling something they can't back up."
Step one of building a web presence is picking a domain name. Walters says it is critical to pick a name that reflects the name of your company, but is also user friendly.
"Having an easy to remember domain name makes it easier for people to find you," he says. "Have something that is quick, easy, snappy and easy to remember."
A website is a critical business tool, even if you don't plan to sell from the site itself.
"(A website) lends a certain level of professionality to your company," Walters says.
Domain registration shouldn't cost more than $15 annually. Once you've registered your domain, it's time to find a host. There are many hosting sources out there, but Walters says be sure to compare prices and make sure you're only paying for the services you need.
"If you pay more than $15 per month for hosting, you better be getting a ton of services in return," he says.
Once you've decided on a host, it's time to work on design. Development can cost several hundred or several thousand dollars. The amount in the end will depend on your planning.
"(Start off with) 'what is my goal' and 'who is going to be visiting my website,'" he says of what should lead your design. "The more clear idea you can have on your website before you begin, the less money you'll spend on development."
Key elements of website design are a page to introduce yourself (an about me page) and pages for your location and services provided.
"Basic website development should cost around $500," Walters says. "A full e-commerce can be $10,000 and up."
Sites like WIX and WordPress will design your sites for free, but will be more template driven and offer less customization.
If you want customization, be prepared to pay for it. However, be wary of developers who are constantly trying to add services and functions.
"Designers are more than happy to take your money," Walters says. "Look for a local developer and look at some of the stuff that they've done before. Do not sign contracts with developers. Ever. Web development should be a one-shot deal. Once it's set up, you shouldn't have to pay them any more money."
Another free key to an effective web presence is social media. Walters says you need to register Facebook and Twitter pages with your company, even if you don't plan on using them.
"It claims the name and prevents people from stealing it from you," he says.
Website checklist
_ Come up with a domain name
_ point you host to your domain
_ establish your market goals
_ come up with a content plan
_ decide on a framework and find a designer
_ register your website with search engines
_ add domain name to promotional materials
_ check in on your site monthly to review content