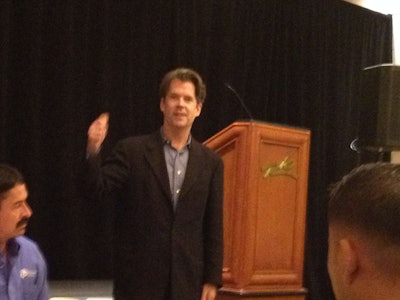 Rick Farrell, Tangent Knowledge Systems, says most sales organizations are very good at a game that is no longer being played; or at best a games whose rules have changed.
Farrell, speaking at ReMaTecUSA Sunday at the Rio Hotel and Casino, says businesses have perfected the ability to consistently hit the target, but the problem is it's the wrong target in today's economy.
"The way customers buy, select suppliers, build relationships and view sales people has dramatically changed with the Internet," he says. "Yet most sales organizations continue to sell as if they were in a quaint Normal Rockwell painting."
The old ways of selling, where sales people rely heavily on relationships and selling like they are the primary source for information, are long gone.
Good and free information is readily available on the Internet, but sales people are preconditioned that their job is to give out information.
"This makes it hard for sales people to stay relevant," he says. "They had a monopoly on information. Today, in many cases, customers don't tolerate sales calls."
More and more customers are finding that it's just a hassle talking to a salesperson.
"Selling, by its very nature, often produces the opposite effect," Farrell says. "The greatest enemy of selling is the illusion that's its actually happening. The best selling happens when you're not selling; when you're asking questions and doing something more effective, which is to get the customers to sell you."
Farrell says the best sales person in any exchange is always the buyer because they hold all the cards in the transaction.
Effective sales strategies in today's market, Farrell says, involve not selling your products as solutions, but first identifying your customers' problems.
"When customers have unlimited free access to information, the value of the information you bring has been minimized," he says. "Customers rely on you not for your content. It's your context, and perspective and ability to understand from their perspective.
"Why would they want to pay a premium for your expertise and advise," he adds. "What they really want, if they value you and if they trust you, is they want your context. They want you to ask them questions and give them perspective and make them look at things they haven't thought of. Not necessarily to be influenced, but to be better informed."
With the information a sales person brings to the table no longer holding any real tangible value, Farrell says the only remaining benefit is context.
"Your number one goal is to get your customers to share information with you," he says. "If you've become a commodity, all you have left is price. In a pure commodity business, it does not make sense to have sales people add to the cost."
In order to get customers to open up about their problems, Farrell says you have to reverse the traditional flow of information, and have it go from the customer to the salesman.
"As long as you continue that flow (from salesperson to customer), you're going to be increasing your chances that you're going to be wasting someone's time," he says.
"If my customer has no problems, I have a huge problem."
Customers that are not willing to share those problems with you likely see you as a commodity.
"The most important information is the information (the customers) have about their problems," Farrell says. "You can't sell someone a solution without understanding the breadth and depth of their problem."
Farrell suggests sales organizations redesign sales strategies to talk about problems.
"Most sales people spend their time on talking about solutions," he says. "As long as you talk about solutions, you're creeping quickly into the commodity zone."