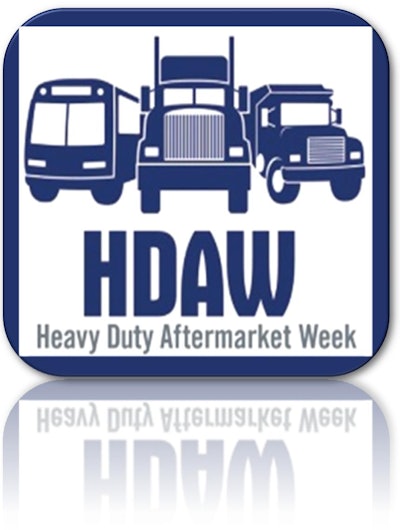 Heavy Duty Aftermarket Week has announced its theme and leadership for next year's milestone 10th anniversary.
Set for Jan. 26-29, 2015 at The Mirage in Las Vegas, HDAW's upcoming theme is "Elevate Your Business." The new event co-chairs are Emily Poladian, global manager of strategic planning for Firestone Industrial Products, and John Bzeta, president and CEO of Fleet Brake. The newly-appointed vice-chair is Jorge Mederos, CEO of Super Truck Parts.
The HDAW chair persons are responsible for the strategic leadership of the event and management of the volunteer/staff program planning teams, consisting of more than 30 individuals from aftermarket supplier and distributor companies.
"In today's business, we are all looking for the best way to succeed," says Bzeta. "We can all stand to learn more about relationships, and how to best make them work for us."
"As a supplier, it is important to understand the business climate that our distributors are facing," says Poladian. "The suppliers consider the distributors as vital to the aftermarket, and the continued growth of supplier support to HDAW as the industry's leading aftermarket event, is proof the conference is relevant to the industry."
The HDAW leadership team focuses on delivering excellence for the annual conference's key elements including the distributor education program, pre-scheduled supplier/distributor one-on-one meetings, the HDAW product expo and the numerous networking opportunities that are an integral part of the conference, the organization says.
Heavy Duty Aftermarket Week 2015 also will offer industry participants four days of worthy education programs, a product expo with the latest and greatest in heavy-duty parts-services and information, peer networking and social activities, and the extremely valuable one-on-one meetings.
For more information about Heavy Duty Aftermarket Week, CLICK HERE.