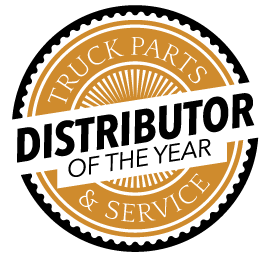 Today and tomorrow are the final days to nominate your favorite aftermarket business for the 2014 Distributor of the Year award, presented by Truck Parts & Service.
If you haven't nominated a business yet, it is incredibly easy.
Simply CLICK HERE and list up to three distributors you believe are worthy of the independent aftermarket's highest honor.
The open nomination period for the award began in late March, and over the past three months Truck Parts & Service has received a wide array of nominees. Once the open nomination period concludes on Friday, the top five vote getters will be announced as the 2014 finalists.
All independent aftermarket businesses — with the exception of 2013 winner Truck Supply Co. of South Carolina — are eligible for the 2014 award. This includes previous winners and past nominees.
The 2014 award will be presented in January at Heavy Duty Aftermarket Week in Las Vegas.