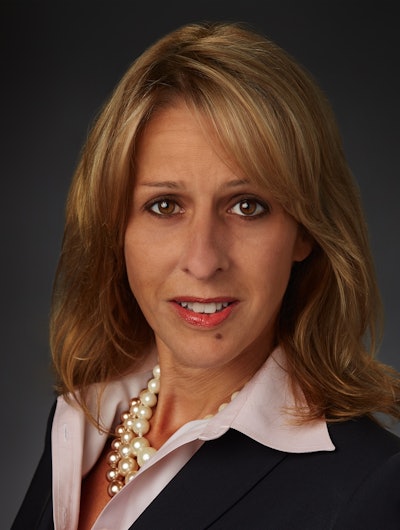 Trucker Buddy International's Board of Directors has unanimously elected Krista Sohm, vice president, marketing and communications for Meritor, Inc., as its newest board member.
"We are very excited to have Krista join the board," says Randy Schwartzenburg, executive director of Trucker Buddy International (TBI). "Krista is recognized for her ability to create and implement innovative ideas. We look forward to the contribution she will bring to our board in helping us advance Trucker Buddy's mission of enabling schoolchildren to understand the importance of the trucking industry in our everyday lives."
Sohm, who has 25 years of industry experience, says, "I am proud to join the board of TBI and represent Meritor. TBI creates a shared experience and helps support many of the essential skills children are learning in the classroom, including writing, math and geography."
Meritor, a platinum sponsor of the organization, has supported Trucker Buddy for more than 15 years. In addition to the philanthropic contributions from the Meritor Trust, the company has also endorsed the volunteer efforts of its employees. Most recently Mike Pennington, who passed away last year, represented Meritor on the TBI board and served on its advisory committee.
Trucker Buddy International, an independent, non-profit 501(c) (3) organization, is often called the number one trucking image campaign in North America and has helped educate schoolchildren and introduce educators to the trucking industry. This gives them the world through the eyes of a professional truck driver. The Trucker Buddy program helps to educate and mentor schoolchildren via a pen pal relationship between professional truck drivers and children in grades K-8 as supervised by their teachers, the organization says.
After an extensive screening process, the professional truck drivers are matched with a class and as directed by the teacher, drivers share news about their travels with their class. Students write letters and send pictures to their drivers. Students' skills in reading, writing, geography, mathematics, social studies, and history are enhanced and learning is made fun.
Since 1992, Trucker Buddy International has helped educate more than a million schoolchildren and introduced them to caring, compassionate men and women, professional truck drivers. The ongoing success of the program is due to driver volunteers, participating teachers and the contributions of sponsors. There are no fees to the drivers or teachers to participate in the program. The Trucker Buddy program is funded entirely through sponsorships and donations.