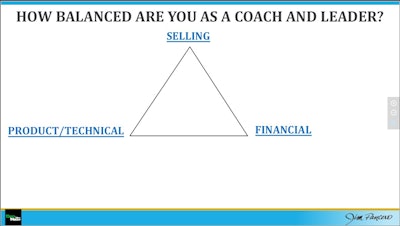 Selling in the aftermarket today requires a proactive approach that starts at the top of your sales organization and descends down throughout your team, says Jim Pancero. The days of sales managers sitting alone in an office approving price cuts and putting out fires is over.
During the GenNext third-quarter webinar on Tuesday, Pancero addressed the steps business leaders need to take today to shift the strategy of their sales managers from reactive supervisors to proactive sales leaders.
"I believe the sales manager is the single most critical person in a sales organization," Pancero says. "The job of a sales manager is to help each and every one of your people achieve more than they would have achieved if just left alone."
Pancero says reactionary approach of most sales managers today is the result of the methodology developed decades ago. Pancero says the independence of Baby Boomers created a sales culture where everyone functions alone on an island. Sales managers would "leave the door open" in case a problem arose, but predominantly stayed out of their team's business. He says this was the preferable method for both sides for many years.
He attributes the recent shift away from that management structure on many things, but specifically, a changing workplace demographic and customer expectation.
Pancero says the young people entering the sales industry today are much more open and accepting of assistance and guidance. Their customers expect more from them as well. In the age of immediate communication and expectation, sales people need assistance in developing long-term plans to best assist their customer base, Pancero says.
During Tuesday's webinar, Pancero highlighted specific tenets of sales planning (strategic planning, tactical planning and future planning) that managers can use to better lead and coach their team members. Pancero says each of those three factors are valuable because they push a salesperson to look past a single customer interaction and toward long-term relationship growth.
His example Tuesday was that of the customer order that is incorrectly inputted and will result in a mistake-filled delivery. In the past, Pancero says a sales manager would be notified of a mistake such as that only to offer an apology to the customer and approve a discount for the transaction. While those steps are still valuable in smoothing over the error, Pancero says a good sales manager should push a sales person to do more.
"The important question is 'What are you going to do to make sure this doesn't happen again?'" he says. He also notes the importance of simple phrases such as "and then what," which keep a sales person thinking long-term when dealing with short-term problems.
"Effective coaching is based on successful questioning and challenging skills in a positive environment," he says.
Pancero adds that coaches must be looking big picture as well. He says sales people are much more accepting of guidance if it comes from someone who has the experience or foresight to identify issues that may be on the horizon. And even then, he says some employees will fight it.
Pancero says a good sales leader also must be patient.
"A successful coach understands coaching is a process of 'baby steps,'" he says.
That means when sales people rebel against advice, they aren't immediately disregarded or fired. Pancero says it is important to separate a sales person from their actions so it's clear to them that the concern is with their work, not their person.
"Remind them that your goal is to help them increase their sales and profitability so everyone makes more money," he says.
A copy of Tuesday's webinar will be available on the GenNext University website later this month.