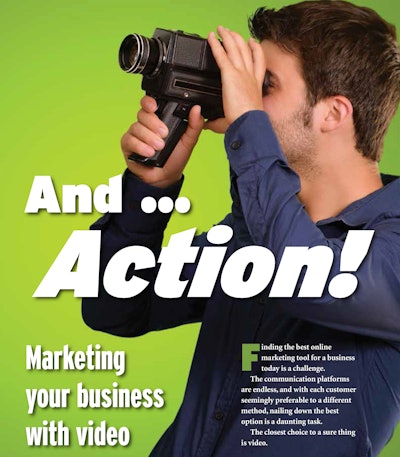 Buoyed by the ubiquitous monolith that is YouTube — the No. 2-ranked search engine in the world behind Google — online video marketing is now the second- highest grossing ad revenue format on the Internet. Only the catch all "mobile" format can claim better numbers.
And unlike other marketing options, such as search engine optimization (SEO) and paid per click adverting, online video advertising isn't prohibited by a budget.
Pre-roll advertisements cost money, but producing and uploading videos to YouTube is free.
But that wonderful feature is just one of several benefits businesses can enjoy by committing to online video marketing today, says Sean V. Bradley, CEO at Dealer Synergy.
Another perk is exposure.
Nearly everyone watches videos online.
Citing a recent market report, Bradley says 78 percent of the world's population watches at least one
online video per week, and 55 percent watch at least one video per day. YouTube says more than one billion unique users visit its site every month, and those users total more than 6 billion hours of video watched monthly.
Bradley also notes online shoppers are 64 percent more likely to make a purchase after watching a video on a product they are considering.
That last stat is particularly valuable in the aftermarket.
A customer pricing a new spring may require more information than a basic catalog listing can provide. A video providing that info immediately increases a distributor's likelihood of making a sale.
Customers also typically remember what they see in a video, says Kent Lewis, president at Anvil Media.
Lewis says video has five times greater memory recall than the written word, and has been proven to improve viewer engagement by 300 percent on websites where it is used.
"People remember what they watch, especially when they like it," he says.
A good video also is enhanced by Google's search algorithm.
The search giant purchased YouTube in 2006 as a way to capitalize on the Internet's never-ending thirst for video, and has spent the last decade promoting it.
Ever noticed a random YouTube video at the top of your search results? That's intentional, Bradley says, as Google's current search code is weighted to drive relevant multimedia (video, photos, etc.) higher in both organic and paid search results. Bradley says Google's analytics indicate users prefer to watch video as opposed to reading through links, so the search engine provides that easy access.
This offers a wonderful shortcut to marketing success for aftermarket operations, Bradley says.
How-to and instructional videos are among the most popular Google search categories, and as industry experts, aftermarket operations are best equipped to produce these videos correctly.
A simple video that shows how to replace a nearly inaccessible light, or the proper technique for removing a clutch, can become a goldmine in Google's search algorithm.
Lewis says this also helps capitalize on the fact most people are visual learners.
Lewis and Bradley say 80 percent of Internet users remember the videos they watch, which translates to a willingness to return to a website or video channel for more information, the duo says.
There are YouTube channels that produce automotive instructional videos that have thousands of followers. Lewis says there's no reason heavy-duty businesses can't build a similar presence.
The key is determining which video topics customers are looking for.
"You have to ask yourself what they want to watch," he says, adding that good video conveys a clear message, is useful and empathic to a customer's situation.
"You want to find out what they really like and give them more of that," he says. And Bradley adds customer interest typically isn't limited to instructional videos. Product demonstrations and promotional videos also perform well when produced well.
Bradley says video also provides the most effective way to communicate a message to a customer short of a face-to-face meeting.
Phone calls can convey emotion, but video conveys everything: body language, mannerisms and enthusiasm. It injects personality into a conversation, and that's important, Bradley says, as more than 90 percent of all communication is non-verbal.
Video "creates trust and builds rapport" better than other communication method, he says.
It also allows a business to provide a substantial amount of information in a short period of time.
Bradley says 60 seconds of video can be as informative as 1.8 million words of text.
For a service technician hustling to finish a repair, that's an unparalleled time saver.
"A good video allows you to communicate more [information] than you could ever hope to deliver in any other online medium," he says.
But perhaps the most valuable aspect of video is the way it showcases a business.
Coming up at the top of a customer's organic search results with a video catered to his interest is as valuable of a marketing tool as exists today, Lewis says.
Quality video displays a business at its very best. Quality video puts the answer in front of customer asking a question.
Any business that's capable of doing that regularly can become a hub for information, and a resource for customers worldwide.
Lewis says that should be every company's online goal.
"You want to become a thought leader in your industry," he says, "And have a customers want to go to."
Bradley agrees, adding the popularity and influence of video only seems destined to grow.
By 2017, he says it will account for 90 percent of Internet traffic.
"Video is only going to get more powerful and more prominent. Don't be left in the dust."