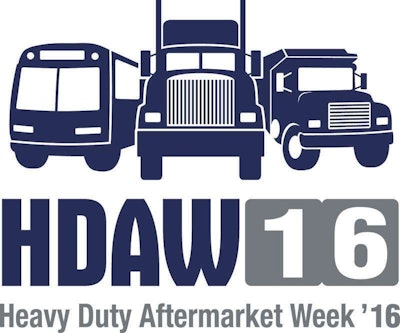 Organizers of the 11th annual Heavy Duty Aftermarket Week (HDAW) have announced the theme and leadership for next year's event, which will be held Jan. 25-28, 2016, at the Mirage in Las Vegas.
The theme will be "Heavy Duty Aftermarket 2.0: Upgrade Your Business," and the new event co-chairs are Rob Phillips, president and COO for Phillips Industries, and Jorge Mederos, CEO of Super Truck Parts. The newly-appointed vice-chair is Don Purcell, partner of Stone Truck Parts.
The HDAW chair persons are responsible for the strategic leadership of the event and involvement with the volunteer/staff program planning teams, consisting of more than 40 individuals from aftermarket supplier and distributor companies, organizers say.
"Driven by technology, changes are occurring in our industry faster than ever before." says Mederos. "How we communicate with people and systems today, will not be appropriate tomorrow. We want this year's conference to provide a glimpse of what's coming down the road, and what we need to be doing to upgrade our businesses, so we can grow and prosper well into the future."
"As a supplier, it is important to understand the business climate that our distributors are facing" says Phillips. "The theme of Heavy Duty Aftermarket 2.0: Upgrading Your Business, intends to focus on the relationships between the independent aftermarket distributors and their suppliers and how both can continue to grow by learning about ways to upgrade their services and product offerings."
The HDAW leadership team focuses on delivering excellence for the annual conference's key elements including the distributor education program, pre-scheduled supplier/distributor one-on-one meetings, the HDAW product expo and the numerous networking opportunities that are an integral part of the conference.
Organizers says HDAW 2016 will offer industry participants four days of worthy education programs, a product expo with the latest and greatest in heavy-duty parts and service and information, peer networking and social activities, and the extremely valuable one-on-one meetings, during which suppliers and distributors spend time discussing their businesses and opportunities for growth in their relationships.