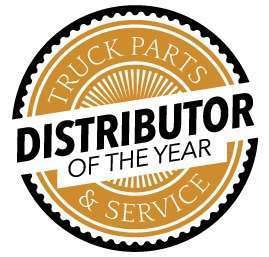 Truck Parts & Service is pleased to announce Harman Heavy Vehicle Specialists, Blaine Brothers, Sadler Power Train, Jerry and Keith's and Valley Truck Parts have been nominated as finalists for the 2015 Distributor of the Year award.
These five finalists were selected due to their nominations from within the trucking industry.
This year's finalists include a few program veterans and three first-time nominees.
With its nomination this year, Sadler Power Train is the first finalist to receive nominations in three consecutive years (2013-2015). Blaine Brothers also is now a multi-year nominee after grabbing its first nomination last year.
For more information on this year's finalists, Truck Parts & Service will be spotlighting one distributor per day in our newsletter for the remainder of the week (More information on our first featured distributor Harman HVS can be found at right).
Each finalist also will profiled over the coming months in Truck Parts & Service magazine, and will be prominently featured at Heavy Duty Aftermarket Week 2016. The 14th Distributor of the Year winner will be announced Jan. 26, 2016 during HDAW.
This year's finalists also will receive a complimentary free trial to RigDig Business Intelligence, which will begin in early 2016. RigDig is a data-driven program that provides business intelligence on more than 900,000 trucking entities operating in the United States. It includes fleet and owner-operator data, CSA data, vehicle spec'ing data and more.