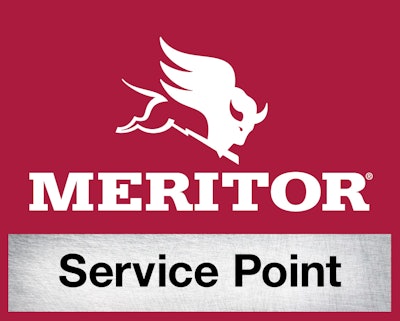 Meritor announces Fast Truck and Trailer, LLC, of Benton, Ill., is now an approved repair service partner for the Meritor Service Point program.
"Fast Truck and Trailer is widely recognized for its quality service and support for fleets in Illinois, Indiana and Kentucky," says Terry Livingston, senior director, Strategic Sales, Aftermarket for Meritor. "We're pleased they have joined the Meritor Service Point program and believe this partnership will benefit both companies and our customers."
The Meritor Service Point program provides fleets and owner-operators with a network of Meritor-approved service partners. Each of these repair facilities carries quality Meritor parts installed by technicians trained with Meritor's extensive technical expertise. Meritor says it is offering the program to top-performing repair facilities like Fast Truck and Trailer that want to provide the highest level of service to their customers.
"Delivering the best-quality parts and service to our fleet customers is our highest priority," says Steph Sabo, owner and president at Fast Truck and Trailer. "As a Meritor Service Point partner, our company and, more importantly, our customers, will benefit from Meritor's industry-leading products and extensive field experience."
"Fast Truck and Trailer believes that independent repair facilities play a major role in keeping vehicles up and running," Livingston says. "Its philosophy of treating maintenance as a profession and not just a mere vocation has helped make Fast Truck and Trailer what it is today – and is one of the reasons they are an ideal partner for the Meritor Service Point program."
Fast Truck and Trailer, founded in 2012, has quickly become a leading service provider in its region due to Sabo's industry experience and leadership, according to Livingston. Sabo is a former chairman of the American Trucking Associations' Technology & Maintenance Council (TMC), which recommends improvements to transport equipment, maintenance and maintenance management. He is a recipient of the TMC Silver Spark Plug award.
As the Meritor Service Point program expands, Meritor is continuing discussions with additional repair facilities to become partners.
"We look forward to the program's continued growth and helping more repair facilities reinforce their commitment to quality with fleet customers," says Ron Lacombe, senior manager, Business Development for Meritor.