The following comes from the August 2016 issue of Truck Parts & Service. To read a digital version of the magazine, please click the image below.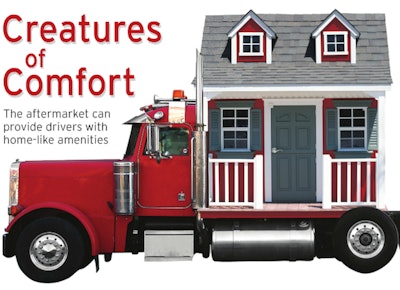 For most regional and long haul truck drivers, the inside of their truck almost becomes a second home.
They spend hours upon hours driving the highways of North America, then when they do stop, their cab doubles as their home on the road. Spending days, weeks or months at a time inside the truck, they often begin to look for ways to give it a more home-like feel.
That need for creature comfort items provides a major sales opportunity for aftermarket distributors.
"I am on the road at least four or five days at a time," says James Cleveland, a long haul owner-operator from Lawrenceburg, Tenn. "I spend a lot more time in my truck than I do at my house."
To give his truck a more comfortable feel, Cleveland looks for amenities that make his time on the road more enjoyable.
"I can watch television, cook my supper and access the internet," he says. "Pretty much the same things that I could do if I was at home."
Pete Petropoul opened what is now truckersmall.net 20 years ago. During that time, he says that he has seen many changes to what he can and needs to offer as well as what drivers are looking for.
"When we started we had one product," he says. "Now, we can offer 80,000. It has changed a lot over the years in what our customers need."
Owner-operators have the freedom to outfit their trucks the way they want, whereas company drivers often do not have that ability. In most cases, company equipment consists only of items deemed necessary, not creature comforts.
However, amenities once looked at as luxuries are becoming more and more prevalent — and easier to sell — as drivers are outfitted to make their time on the road as comfortable as possible.
For example, while most people take for granted that they have access to electricity and running water at their job site, drivers are forced to rely on aftermarket distributors to purchase those products to fulfill their needs.
Some drivers acquire part of what they need by purchasing a 12-volt or battery- connected inverter to provide electrical power. Power inverters convert standard battery power (DC) to household power (AC). This affords drivers the luxury of adding many of the household items that they would find at home.
"I have a television and satellite, microwave and a small refrigerator," says Glen Baker, an owner-operator from Decatur, Ala. "When I stop in the evenings, I can watch movies or television and I am pretty comfortable. It's good and cool and it's just kind of 'homey.'"
The use of inverters allows drivers to maintain common kitchen tools such as refrigerators and microwaves.
Bryan Martin, co-owner of 4 State Trucks in Joplin, Mo., says quality high- powered inverters completely change the way a driver can live while on the road, and at an inexpensive price.
"If they get a good high end inverter they can run almost any household item that they need to," he says. "They aren't dependent on stopping at a hotel or us- ing a truck stop for power needs.
Petropoul says the biggest selling items from truckersmall.net are refrigerators, mattresses and bed sheets. He says the website gives drivers the flexibility to shop for what they need as well as for items that might also go along with that product.
"We started out years ago selling mud flaps that allowed drivers to sell advertising on them. That's all we offered," Petropoul says. "As things evolved, we developed a larger product line and we sell items through our site and do not produce a catalog. We depend on sites like Google and Facebook for marketing purposes."
Many of the items marketed there are related to improving driver comfort.
"Drivers want a good mattress and that has become a popular item for us," Petropoul says.
Baker agrees.
"I have a lot of the bells and whistles — the stuff that makes my truck comfortable — but the main thing is having a good mattress and a good seat. That's where all my time is spent. If I'm not in the driver's seat, then I am in the bed."
Both products are readily available for distribution in the aftermarket.
Seat makers such as Bose have developed technologies that help drivers by absorbing some of the common road vibrations.
Truck drivers are exposed to excessive
levels of whole body vibration from the bouncing, jarring and shaking experienced while driving. This can have severe consequences that affect driver performance such as back pain, spinal degradation, soreness and fatigue.
The Bose Ride system is an active suspension system for truck drivers. It comes with a seat top but the company says the technology is actually below the driver, sensing, analyzing, and counteracting unwanted vibrations from the road, instead of simply acting as a shock absorber, as conventional air ride truck seats do.
In the aftermarket, it's a product that can sell itself.
"The need for driver comfort and accommodation has grown over the years," says Ralph Tricomi, Bose's aftermarket marketing manager. "We fit the driver with very good protection and isolate the road vibrations so that the driver feels very little of it. This technology prevents whole body vibrations."
Martin says seats are the top selling driver comfort item at 4 State Trucks. "Most of the time drivers are looking for leather and memory foam. Some want the massage options and other features. But, you've got to figure that some of them are in these seats for 16-18 hours a day whether it's driving, sitting at a stop or resting in them when they are off the road."
He says premium seats can be pricey. But, that price can be worth it for some- one who spends a great deal of time in the seat.
Baker says he has noticed a dramatic change in how he feels after a day on the road now, as opposed to when he first began driving almost 30 years ago.
"When I started, the truck would bounce and jar you all over the place," he says. "Then at night, the mattress was awful and it was always hot in the cab, so I never got a good night's rest.
"Now, I sleep as good or better than I do when I'm at home just because the mattress and seat are so much better than what we had years ago."
Martin says smaller items are also big sellers — items like computer laptop stands and better quality CB radios and GPS units.
"It's not always the high dollar creature comfort item that someone needs," he says. "But people are always looking to be as comfortable as they can be on the road and there are hundreds of things they can get to help them do that."
Marketing of these products also has changed greatly through the years. Many companies now use websites and social media to reach their customer base, while some still use product catalogs.
"We have seen our growth through the internet and staying on top of the trends involving search engines," says Petropoul. "We have had to change with the times, but I think we have been able to do that."
Martin says 4 State Trucks uses some billboard advertising as well as direct mailings and magazine ads, but has found its website to be its most successful tool.
"We have been in business for 36 years and the products have all changed so much," he says. "Every year the bar is raised a little higher on everything. So we have changed and adapted."