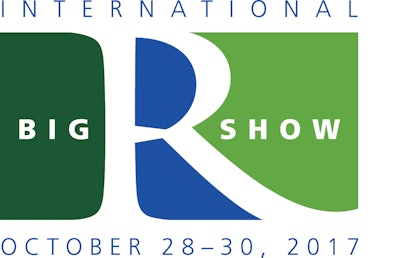 The Automotive Parts Remanufacturing Association (APRA) announces a new name, logo and management for the 2017 International Big R Show (formerly called the Big R/ReMaTecUSA Show) that will be held Oct. 28-30, 2017, at Bally's in Las Vegas.
APRA says next year's event will be called the 2017 International Big R Show and will be entirely managed and promoted by APRA out of the headquarters office in Gainesville, Va. 
Rates to exhibit in 2017 have been dramatically lowered to increase the value of participating. Next year's event also will re-introduce a new Loyalty Program to reward members and long time exhibitors and will expand the trade show to three days to increase floor time with customers and partners, APRA says. Additionally, the organization will double the number of meeting rooms in 2017 and will be adding several educational tracks to attract more attendees to enhance networking.
"APRA is thrilled to fully manage the new 2017 International Big R Show as we work to create the premier networking and education event for the remanufacturing industry," says Scott D. Parker, APRA association manager. "Over the next several months, APRA will be reaching out to our members and exhibitors to seek input as we build the 2017 event to serve the needs of APRA members and the industry."