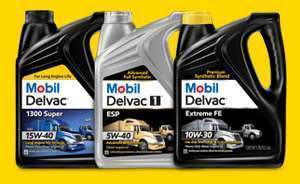 ExxonMobil has introduced its updated lineup of enhanced Mobil Delvac diesel engine oils that meet or exceed the API's CK-4 and FA-4 category requirements.
According to the company, test results show the new oils deliver several valuable performance benefits over previous, CJ-4 oils, including:
50 percent improvement in extending oil drain intervals beyond OEM recommendations.
80 percent improvement in high temperature viscosity control and 50 percent improvement in oxidation resistance
20 percent improvement in wear protection
The updated Delvac product family features:
Mobil Delvac 1: An advanced full synthetic diesel engine oil that provides extended drain capability and exceptional low-temperature performance with the potential to improve fuel economy.
Mobil Delvac Extreme: A premium synthetic blend, high-performance diesel engine oil that helps extend engine life while providing long drain capability for modern diesel engines operating in extreme conditions.
Mobil Delvac 1300 Super: An advanced diesel engine oil that meets or exceeds OEM requirements and delivers high performance in both on- and off-highway applications.