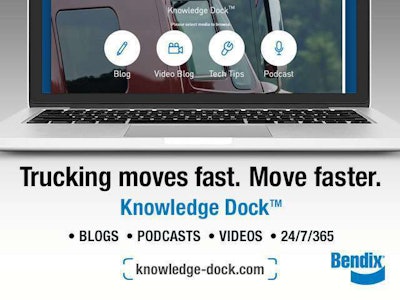 Bendix is unleashing a trove of commercial vehicle knowledge at its website safertrucks.com.
Bendix says the site's new multimedia center, called Knowledge Dock, is devoted to helping trucking professionals stay connected to the industry by keeping them updated on the latest in truck operation, maintenance, and safety – while also examining trucking trends and technology developments. Bendix says visitors will discover an ever-growing list of videos, blog posts, podcasts, and white papers from Bendix's team of respected industry authorities.
Two popular Bendix series – Bendix Tech Tips and the video-based Tech Talks – are also featured.
The new addition to safertrucks.com is accessible 24/7/365. It delivers insight, expertise, and perspectives that all industry participants – from fleet leadership, owner-operators, and drivers to technicians, regulators, legislators, engineers, and business leads – will find useful in their day-to-day operations as well as longer range planning, the company says.
Supporting and educating the industry is an ongoing priority at Bendix Commercial Vehicle Systems. The company has been a trailblazer in industry training programs and technical education for more than 50 years.
"We take our commitment to education and post-sales support seriously. That's one reason we developed this outlet," says Barbara Gould, Bendix director of corporate communications. "Knowledge Dock on safertrucks.com provides a fresh voice and an easy way for people to stay connected to their industry, from the technical to the topical. Plus, by making the material available 24/7/365, we ensure our industry partners can access it on their own terms, when and where they need it."