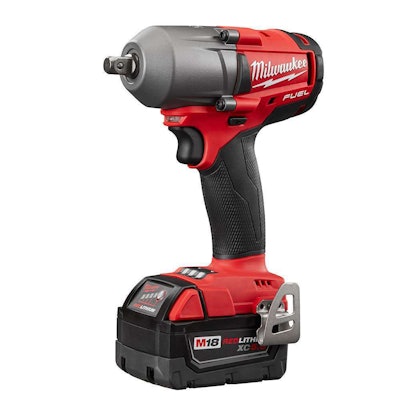 Milwaukee Tool has released its new M18 FUEL 1/2 in.High Torque Impact Wrenches.
According to Milwaukee, the new tools are similar in size and weight to compact impact wrenches, but deliver 450 ft.-lbs. of fastening torque and 600 ft.-lbs. of nut-busting torque, outperforming some competitive impact wrenches in the High Torque class.
"As the power tool industry evolves and expectations increase, users continue to demand fastening solutions that provide more power in a compact package," says Eric Rusch, product manager for Milwaukee Tool. "In 2012 when we launched our M18 FUEL High Torque Impact Wrenches, we set an industry benchmark for power with cordless impact wrenches that were capable of torque up to 1200 ft.-lbs.
"However, not all users require the extreme power of our High Torque Impacts. Through our field research, it was evident that there was a need to provide a solution with more torque than our M18 FUEL Compact Impact Wrenches while benefiting from a lighter weight, more compact solution than our High Torque Impacts. With plenty of power to tackle a wide array of heavy fastening applications, the Mid-Torque is up to 4 in. shorter and weighs 2 lbs. less than competitive tools in the high torque class, allowing more access into tight spaces and reducing user fatigue."
The new models will include an M18 FUEL Mid-Torque Impact Wrench with ½ in. Pin Detent and an M18 FUEL Mid-Torque Impact Wrench with ½ in. Friction Ring. Milwaukee says both are also designed with a three-mode DRIVE CONTROL feature, providing the user with the versatility to switch between Modes 1, 2, and 3 to match the power and speed to the application at hand.
Similar to other M18 FUEL Impact Wrenches, the company says these solutions have a specialized rubber overmold material that provides ultimate comfort during prolonged use while lasting longer against corrosive materials. Also, As with all M18 FUEL products, the new tools feature three Milwaukee-exclusive innovations — the POWERSTATE Brushless Motor, REDLITHIUM XC5.0 Battery Pack and REDLINK PLUS Intelligence Hardware and Software— to deliver unmatched performance, durability and run-time, the company says.
The new wrenches will be available next month.