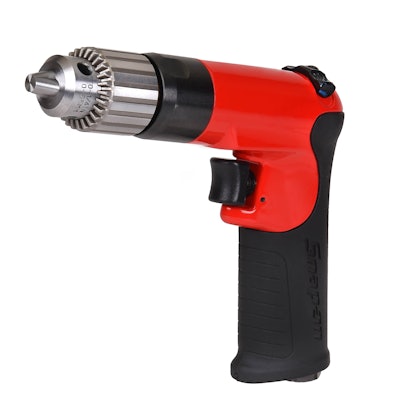 Snap-on says its new PDR2500 and PDR2501 ¼ in. Micro Reversible Air Drills are small enough for techs to easily tackle work in cramped engine compartments.
Despite the smaller size, these drills have the torque to handle most applications while mastering consistent runout of less than .010 in, the company says.
"The big news about these micro drills is how they will quickly become a technician's 'go-to' for working in tight spaces," says Rodger Isetts, product manager at Snap-on. "When you couple that with 1/4 horsepower of torque and a two-year warranty, it's newsworthy. As is the fact that these drills are accurate time and time again, especially when you're working with materials like stainless steel. The runout for these drills is consistent across all materials, whether you're drilling, reaming or honing."
Each weighing 1.5 lbs, Snap-on says the PDR2500 has a keyed chuck, and the PDR2501 is a keyless chuck. Both offer one-handed forward/reverse with slow start-up and variable speed trigger for better control. The handle exhaust directs air downward, and both models have a comfort cushion grip. The drills contain ball and needle bearing spindle components and machined planetary gears to balance the load.