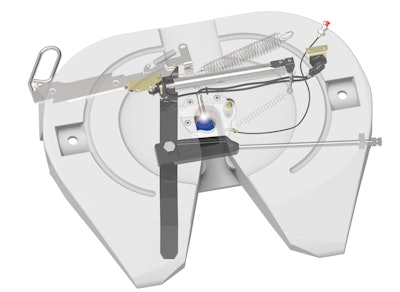 JOST International has introduced the JSK37USK series air-release fifth wheel with sensor technology.
According to the company, the new JSK37USK features the revolutionary Sensor Coupling System, which allows the driver to confirm that the fifth wheel is properly and safely coupled from inside the cab.
"The streamlining associated with a variety of aerodynamic technologies will make physically accessing the 5th wheel for uncoupling, and visually confirming a safe couple, difficult at best. Consequently, the adoption of JOST cab actuated air release wheels on fleet-driven OEM builds is in full swing." says Rich Carroll, vice president sales and marketing.
"With this evolution of tractor trailer designs, JOST believes the automation of the coupling process is also inevitable. The next logical step in the automation of the coupling process is the JOST JSK sensor coupling system which will advance fifth wheels from reliable mechanical devices to the category of value adding ADAS technologies."
JOST says the JSK37USK's Sensor Coupling System contains dual sensors. The first sensor verifies that the kingpin is in the lock position and the second sensor indicates that the fifth wheel is locked and the release handle secured. The lock status can be shown either by a JOST supplied dash display or communicated through the vehicle's CAN bus, the company says.