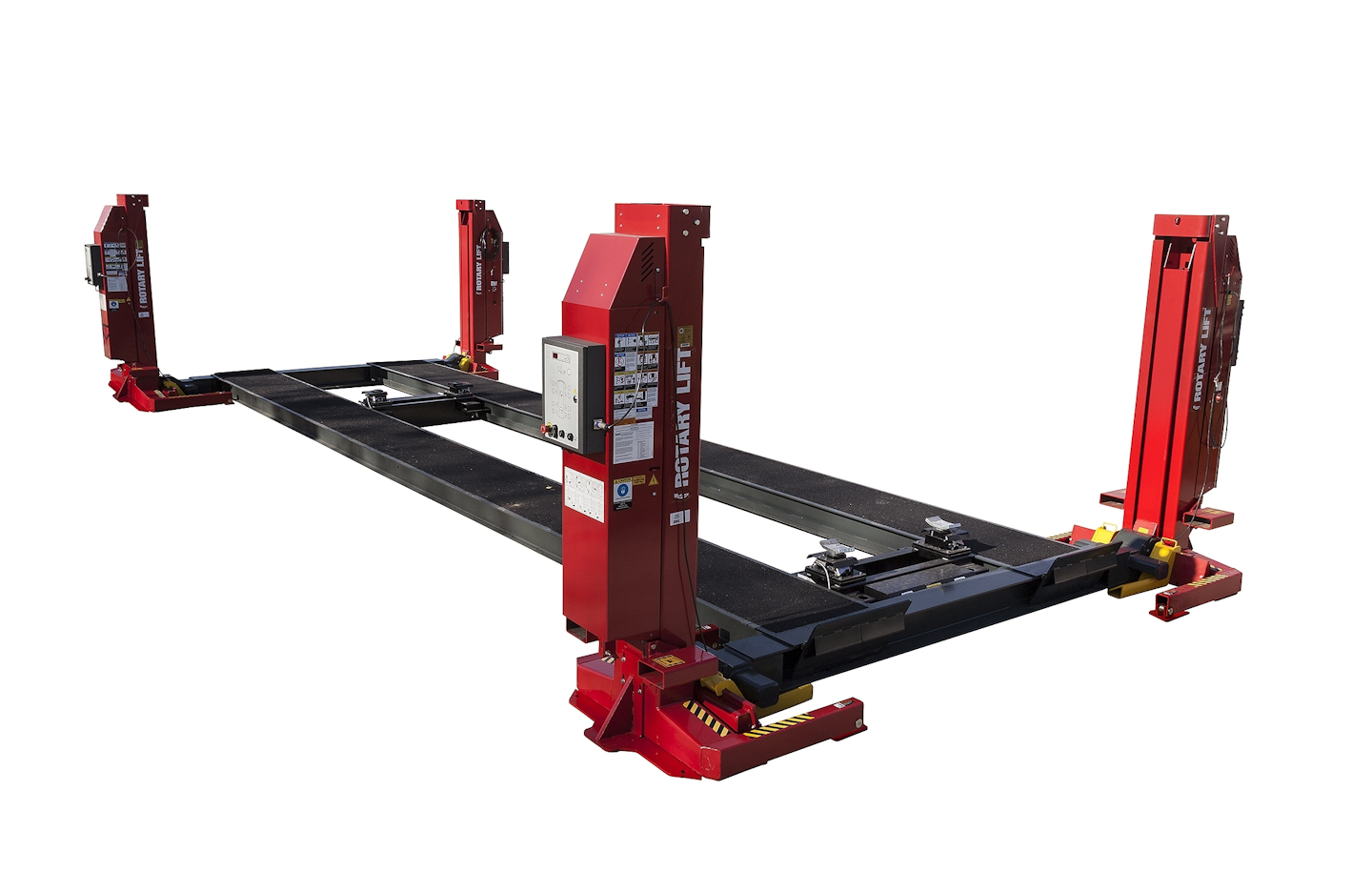 Rotary Lift introduces the 35,900-lb. capacity HDC36, the newest member of its HDC series heavy-duty four-post lifts.
Rotary Lift says technicians can conveniently operate the HDC36 from any post to raise a heavy-duty vehicle faster than other four-post lifts. And because it's battery-powered, the HDC36 is easier to install, maintain and relocate than traditional four-post lifts, the company adds.
"The Rotary Lift HDC36 four-post lift is the perfect solution for shops that are moving to vehicle lifts for the first time," says Doug Spiller, Rotary Lift heavy-duty product manager. "Because it's a drive-on lift, it's easy for technicians to quickly get vehicles into position. And its 68-second rise time further minimizes the time they spend waiting to get to work."
Additionally, with no complicated or expensive electrical installation, no cables, chains or sheaves to maintain and fewer moving parts, the fully hydraulic HDC36 is less costly to install and easier to maintain than a traditional four-post lift. Each post is fitted with its own DC battery and an onboard charger that needs only a standard 110v electrical connection for charging. In the event of a power failure, Rotary Lift says these batteries permit the lift to still be raised or lowered.
The Rotary HDC36 is anchored to a shop floor using just a few wedge-style anchors per column. Environmentally friendly, the company says the HDC36 requires no excavation or site preparation, saving time and money during the installation process. An optional mobile dolly kit permits the lifting system to be easily relocated or reconfigured.
Rotary Lift says the HDC36 is available in two lengths, and low-profile runways are built to handle a maximum wheelbase of 28 ft. The HDC36 features a 79-in. maximum rise to the top of the runways to provide ample working room for even the tallest technicians.
Optional accessories include 14,000 lb. and 22,000 lb. capacity rolling bridge jacks that lift the vehicle off its wheels for tire, brake and suspension work, and high-efficiency LED lighting for improved visibility. A shim kit is available for uneven floors, the company says.
The Rotary Lift HDC36 four-post lifting system is third-party tested and ALI certified to meet industry safety and performance standards. Like all Rotary Lift products, the company says it is backed by the industry's largest factory-trained distributor network providing unmatched local service and support.