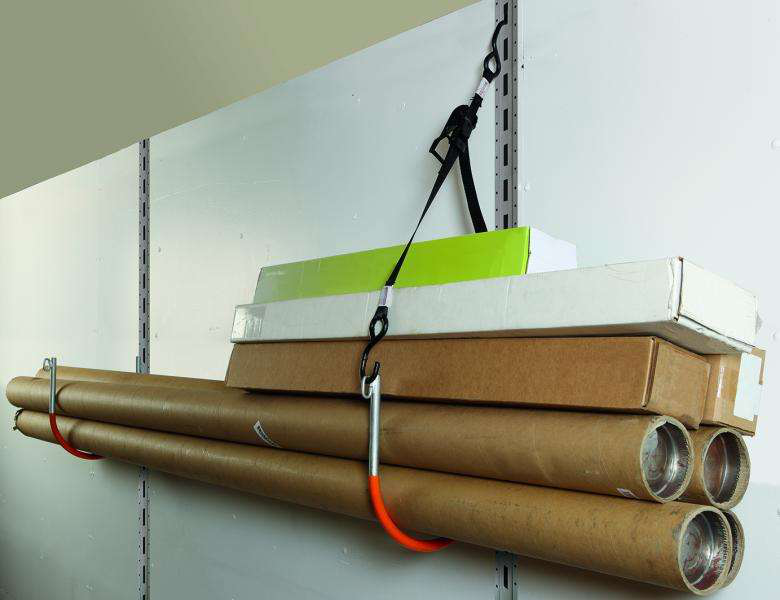 Kinedyne introduces the E-Hook wall-mounted, freight loading storage solution.
The unique, patented hooks solve a loading problem that has plagued heavy-duty trailers, box trucks, service vehicles and light-duty trailers: how to safely and securely stow long and unwieldy cargo and keep it off the floor and out of the way.
Kinedyne says the E-Hook mounts securely to any vertically installed A-Track, E-Track or logistic post system. Users simply insert the E-Hook's patented brackets into the track slots and slide them down until they are securely seated.
The product has a working load limit of 300 lbs. Multiple hooks can be mounted to accommodate longer cargo and the E-Hook can be installed at different heights along a wall to support freight with contoured shapes.
Kinedyne says the device is also designed with an eye-loop at its outer end, enabling cargo securement products to be hooked in for additional cargo stability and security. E-Hook is made of clear, zinc-plated steel with a slip-resistant coating of orange vinyl in its cradle area.
"The E-Hook is quite literally a game-changing innovation that will make loading and unloading trailers more efficient for fleets and dock workers alike," says Paul Wolford, vice president of sales and marketing for Kinedyne. "Like our other products, the E-Hook is well-designed and is the kind of durable, reliable and strong product you'd expect from Kinedyne, 'The Cargo Control People.'"