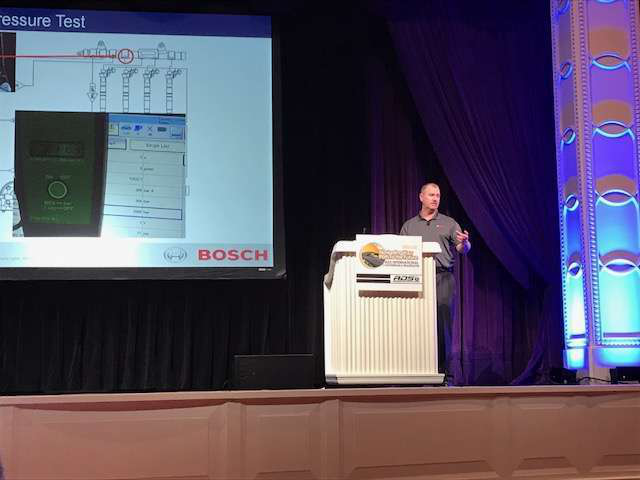 It's the question that drives the aftermarket. Well, at least a portion of it. Replacement part demand might be the aftermarket's bread and butter, but there's also a portion of sales that come from the replacement of newer, not near end-of-line components.
But why?
Why are products with hundreds of thousands of miles and multi-year life expectancies still failing early? Why are distributors selling the same parts to the same customers weeks or days apart?
During a Technical Session Wednesday at the Association of Diesel Specialists (ADS) Convention & Trade Show in Las Vegas, Bob Pattengale tried to provide the engine distribution and service industry the answer.
"If you replace a part five times, maybe it's not the part," says Pattengale, training manager at Robert Bosch, LLC. "Maybe it's something else."
When it comes to engine repair, Pattengale says most new part failures can be traced back to technical misdiagnosis. The failure to find root cause. Pattengale says OE suppliers, like Bosch, are performing incredibly stringent testing on all new components as they come off the line.
One part here and there may fail, but repeated replacement of the same component screams another undiagnosed issue, he says.
"Everything is tested before we put it in the box. We know that it works," he says.
So, what's the problem?
Pattengale says proper diagnosis begins with the basics—checking for proper voltage to run a part, analyzing diesel fuel to check for contamination, etc.—obvious risks that could quickly deteriorate an otherwise functional part.
When those checks come back clear, Pattengale says technicians should work their way backward into the vehicle, beginning at the failed part. This inward analysis allows technicians to find other components and systems that may also be failing, and/or impacting the performance of the part that continues to be replaced. Once this process begins, Pattengale says it should be taken to its conclusion, no matter where issues are found. Finding an issue two parts upstream from a failing component doesn't guarantee the initial failure issue will be resolved, or that the upstream failure is the only one in the system.
Pattengale says some OEM have inspection instructions for these cases, and can void warranties in instances where a technician exits an evaluation prematurely.
Another driver of premature part fail is improper installation. Major installation errors are typically visible, but Pattengale says incredibly small mistakes are still harmful, particularly with engine components. He advises regular testing of new parts and systems immediately after installation to ensure proper placement.
There's also the issue of using the wrong part in the first place. Pattengale says this is especially common in lighter vehicle classes, where visually identical parts work differently and are produced for a specific make and model.