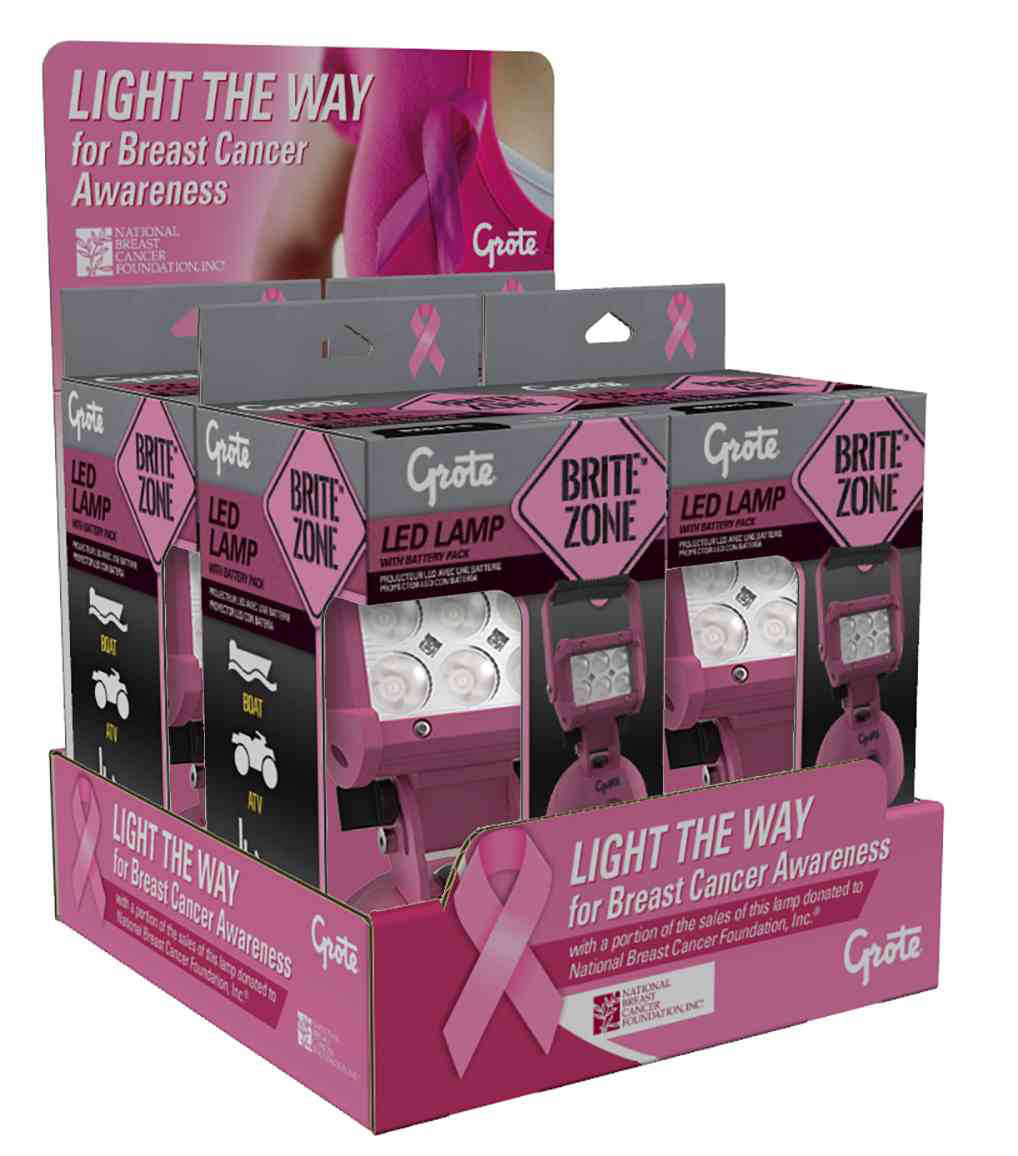 Grote Industries has joined the National Breast Cancer Foundation (NBCF) as an official corporate partner.
To "Light the Way" for Breast Cancer Awareness Month in October, Grote says it is offering a special pink version of its popular BriteZone LED hand held work light.
Breast cancer's impact is widespread. Everyone knows someone, a relative or friend, a coworker or acquaintance, or even personally. As a way to demonstrate support, Grote says its employees saw a way by creating a colorful, temporary supplement to the well-liked BriteZone product line that would raise awareness and raise money with a portion of its sales to be donated to the NBCF.
The National Breast Cancer Foundation (NBCF) is Helping Women Now by providing early detection, education and support services to those affected by breast cancer. A recipient of Charity Navigator's highest 4-star rating for twelve years, NBCF provides support through their National Mammography Program, Patient Navigation, Beyond The Shock, breast health education, and research programs. For more information, please visit grote.com/bca.
Grote to debut smart trailer system
Grote Industries also announced this week a new advancement in lighting technology that allows fleets to maximize truck safety and uptime while minimizing maintenance cost and CSA exposure: The Guardian Smart Trailer System.
The Guardian Smart Trailer System attaches to any type of light, LED or incandescent, and gives drivers real-time alerts about their trailer lighting systems, communicating light outages and electrical shorts, logging information on status changes, and providing data analysis tools.
Grote says the system communicates in two ways: It can be connected through the trailer's telematics system, or via Bluetooth to the operator's Apple or Android device through Grote's Guardian Smart Trailer System app.
The Guardian Smart Trailer System integrates to a trailer via the Grote Ultrabox nosebox, with options for integrating into a non-nosebox application in development.