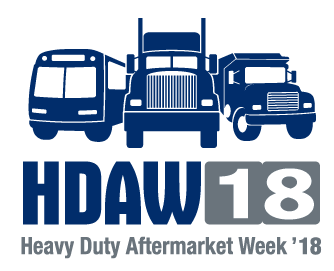 Heavy Duty Aftermarket Week (HDAW) organizers announced Wednesday that Josh Linkner will present the keynote address at the opening general session of HDAW 2018 on Tuesday, Jan. 23, 2018 at the Mirage in Las Vegas.
Linkner, who started his career as a jazz guitarist, personifies creativity, entrepreneurship and disruptive innovation. In this motivational and actionable keynote, HDAW organizers say the five-time tech entrepreneur and New York Times bestselling author will share tools and approaches to fuel sustainable success.
Linkner's presentation will be titled, "Everyday Innovation: Fueling People, Partners and Profits."
HDAW says the program's synopsis is, "In today's world, business moves at hyper-speed. It's no longer the big beating the small – it's those with ingenuity beating the complacent. So how do we get compete? Words like innovation and transformation can seem overwhelming, but by breaking the strategic thought process down into small daily acts, we can meet change and competition with confidence."
Linkner is the author of four books, two New York Times Bestsellers: Disciplined Dreaming: A Proven System to Drive Breakthrough Creativity, and The Road to Reinvention: How to Drive Disruption and Accelerate Transformation, as well as his latest book, Hacking Innovation. He is also the Founding Partner of Detroit Venture Partners, investing in and mentoring more than 100 startups.
Linkner has twice been named the Ernst & Young Entrepreneur of the Year and is a President Barack Obama Champion of Change award recipient. He is a regular columnist for Forbes, The Detroit Free Press, and Inc. Magazine. His work on innovation has been featured in The Wall Street Journal, Harvard Business Review, CNN, and the New York Times.
For more information on Josh Linkner, his presentation and HDAW 2018, please visit www.hdaw.org.
The 13th annual HDAW will be held Jan. 22-25, 2018, in Las Vegas. HDAW is the largest North American gathering of the independent heavy-duty aftermarket industry. More than 2,500 executives and managers from the U.S., Canada and six other countries, including distributors, suppliers, service providers, educators and industry media, attended the 2017 conference in Las Vegas.