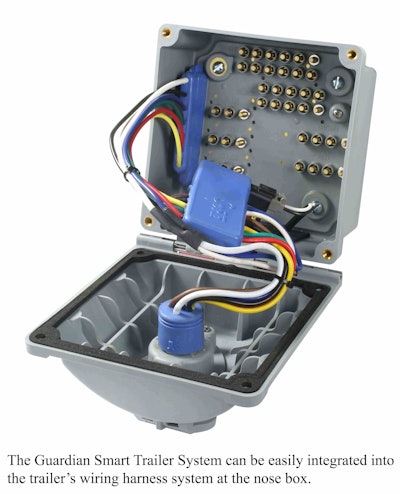 Grote Industries has introduced its Guardian Smart Trailer System, a new lighting alert system that provides real-time status updates of an entire trailer lighting system and works with any type of lamp.
Created in collaboration with one of the largest trailer manufacturers in North America, the Guardian Smart Trailer System is currently being used by more than a dozen fleets across the country. The system works by being integrated into a trailer's wiring harness system at the nose box.
According to Grote, the system's sensor continuously monitors voltage and current passing through the wire harness. The system is programmed to differentiate notable or sudden changes from those that are gradual and could be caused by lights warming up or ambient temperature conditions. When necessary, Grote says the system alerts a driver, maintenance or fleet manager using a smartphone app or it can be connected to the on-board telematics system. All the information on status and any changes are logged in cloud-based storage for data analysis.
The same sensors used in the system also could some day be used to measure temperature, humidity, pressure, or other factors as part of a bumper-to-bumper solution as the industry moves more toward monitoring of additional tractor-trailer functions, says Kevin Cornelius, business development manager of Power Delivery at Grote Industries.
Because of the importance of collecting accurate data, Cornelius adds that the wire harnesses used should be extremely reliable and resistant to corrosion for the smart systems to function optimally.
For this reason, he recommends utilizing wire harnesses that are resistant to moisture, chemical and UV attack, which will stay flexible and not harden or crack. Although this type of wire harness is available from Grote, Cornelius notes that the Guardian system works with wire harnesses and lamps from other manufacturers as well.
Slated for an April 2018 release, Grote says the next generation Guardian Smart Trailer System also includes a geo-fence feature that will automatically upload trailer lighting and electrical system information and send alerts for priority attention, as needed. Geo-fencing allows a virtual geographic boundary to be drawn around a specific location, such as a facility or repair depot. When the geo-fence is crossed and there is a lamp or light outage, Grote says it can be programmed to automatically trigger a warning via e-mail or text message to appropriate personnel.
"Once the tractor-trailer crosses the established geo-fence, the maintenance manager will immediately be notified," says Cornelius. "This approach could even allow for automatic electronic ordering of replacement lamps, if desired."
For more information, please email info@grote.com.