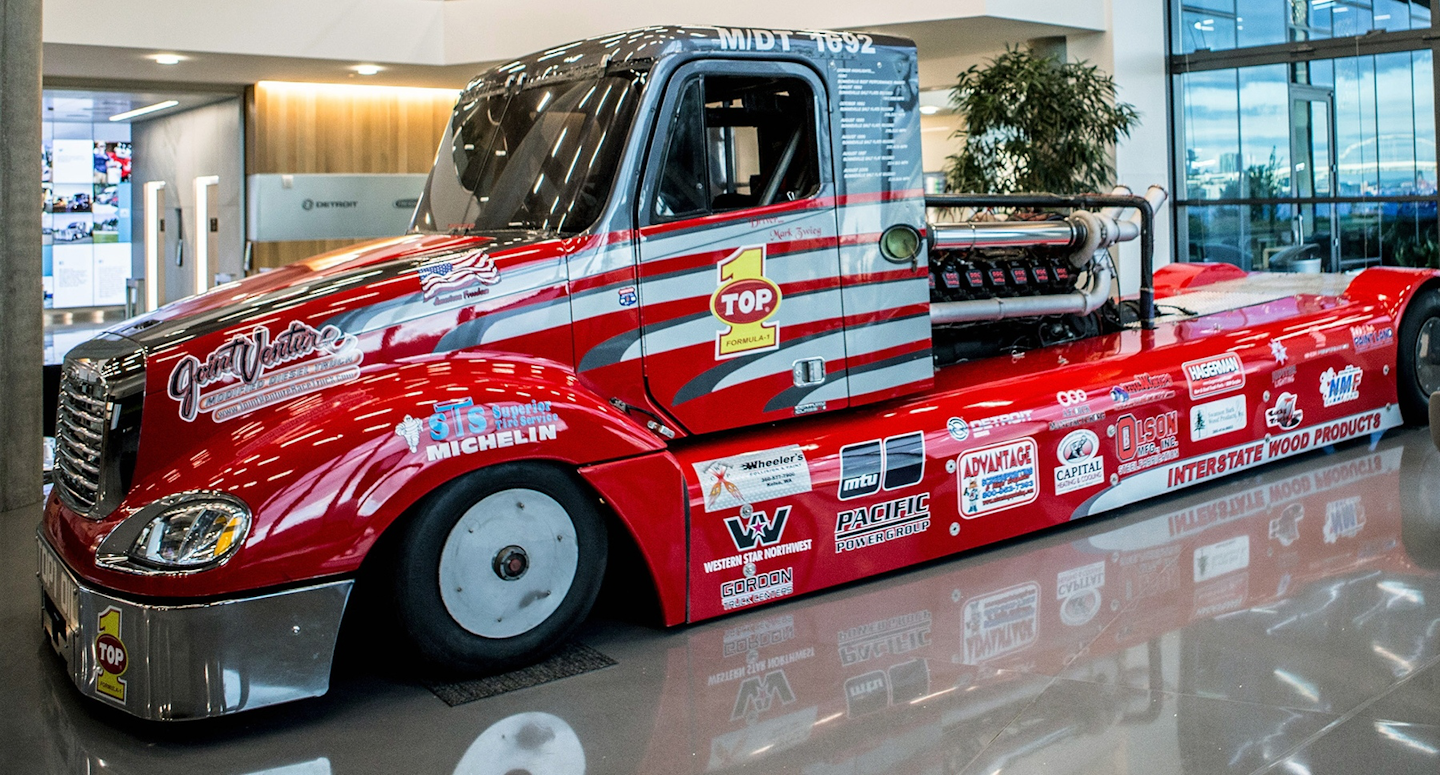 The world's fastest diesel truck now sports a stunning red and two-toned gray paint job achieved with PPG commercial coatings products.
The truck, named Joint Venture, is a 1997 Freightliner highway hauler owned by Don Lemmons and his Kelso, Wash.-based company, Joint Venture Race Truck. It holds the Bonneville Salt Track record for the world's fastest modified diesel truck—228.8 mph—set in 2006.
Lemmons recently decided Joint Venture needed a new finish. With 4,000-plus horsepower pouring out of the big rig's stout 1,952-cubic-inch MTU Detroit Diesel engine boosted with two Garrett intercooler turbochargers to pack a huge punch, he knew no ordinary paint job would suffice. Lemmons turned to two local companies for assistance—Wheeler's Collision & Paint, a PPG customer also in Kelso, and Bob's Paint Land, a PPG Platinum Distributor in nearby Vancouver, Wash., PPG says.
Lemmons was acquainted with Wheeler's Collision & Paint and Bob's Paint Land, having worked with the companies to maintain the truck fleet in one of his other businesses. Recognizing an opportunity to be part of a true joint venture, PPG says Bob's Paint Land owner Mike Stillman and general manager Jared Sellers donated the PPG paint needed for the refinish. Joe Wheeler at Wheeler's Collision & Paint then had painter Kody Price spray DELFLEET Evolution FBC Basecoat and a double coat of DELFLEET ESSENTIAL ESC621 Urethane Clearcoat to give the truck its dramatic look.
Bob's Paint Land is a family-owned enterprise that has been a single-line PPG distributor since 1960. It became a Platinum Distributor in 2014, PPG says.
Joint Venture was on display in October in the lobby of the Portland, Oregon, headquarters of Daimler Trucks North America LLC—Freightliner Trucks' parent company. Employees and visitors had the chance to see what Freightliner trucks could be if they weren't hauling cargo, PPG says.