The following comes from the November 2017 issue of Truck Parts & Service. To read a digital version of the magazine, please click the image below. 
Autonomy is a big word in the future of trucking discussion, but a bigger word looms over the industry as the shift toward driverless vehicles takes place: connectivity.
Connectivity will be a key component in how the truck tells the world around it of its needs and where it's going, and will play a role in shifting the parts distribution and maintenance networks.
"Connected truck means a truck connected to the world outside," says Sandeep Kar, chief strategy officer at Fleet Complete, a global commercial vehicle telematics and Internet of Things firm.
Additionally, Kar says a truck will never be fully able to drive itself without the ability to connect and communicate with its environment.
Two of the most prominent current trends in trucking are the electrification of the truck and the connected truck. Kar says each will have an impact on autonomy, adding powertrain electrification and autonomy are mutually independent but will have overlap areas where they will converge in the future.
"If we're stuck in a fossil fuel world in the next decade, we'll continue to see great advances in the connected truck," adds Drivewyze Chief Operating Officer Leo Jolicoeur. "The industry is not waiting."
Connected to the outside world
Today's driver information displays offer an array of helpful information to the driver while remote diagnostics help funnel vehicle health reports to a maintenance provider.
However, Kar says drivers and repair shops of the future will be only a small part of the truck's communication loop.
"The world outside needs to know what is the status of the battery … The battery needs to know where is the nearest charging station, or how can it increase its range," he says. "That is what some of the connected technology would help is that ensuring that the battery and the powertrain systems are in optimal shape and form."
Such a leap in communication would be a shift from what is currently being shared.
"I think we're at a stage right now where it's about communicating between trucks, truck drivers and state infrastructure on safety information," he says.
Drivewize is currently deploying in Beta-form a project that gathers information from all states about their high-crash locations and high-crash zones with that information being relayed to drivers as they approach those locations—Drivewize's push toward the truck being able to talk to its surroundings. When a truck can communicate with the world around it, Kar says the environment will help drive vehicle optimization.
For example, if a prognostic maintenance platform indicates an imminent breakdown, that truck could be prioritized to avoid extended downtime.
"All those prognostic characteristics will be captured by connected truck technologies," Kar says. "If it's an electric vehicle, it might get preferential lane treatment, for example, or a preferential parking spot or preferential lanes … What's going to make those decisions in the future will be the connected truck and technology."
Prognostic capabilities still have hills to climb. Currently, Kar says the issue with prognostics is that there are only two smart systems on the truck that provide the ability to predict failure: tire pressure monitoring (TPMS) and engine control modules (ECM).
"[TPMS] can tell you if a tire is not running at optimal pressure and it may rupture or lose further pressure," he says. "The engine ECM can tell you a lot about an engine's future. Pretty much the rest of the truck is like a dead zone."
The future, Kar says, is making every system in the truck smarter.
"If a system becomes smart, all of these systems can fall under prognostics, which would bring downtime to minimal," he says. "Systems are already in place. What you need is to make them smarter. How you make them smarter is to add electronic interfaces to enable communication of the vehicle itself with the world outside."
Adding more sensors on a truck already rich with them won't be popular with drivers and technicians already weary of dashboard indicators, or with aftermarket providers who already struggle to capture OEM-native information.
But Kar says the next generation of sensors won't simply indicate a problem. They will help the truck determine its own course of corrective action.
"That's why the whole idea is to add electronic sensors and smart devices to these systems. It's not just about adding a microchip so the system can talk," he says. "It's about offering information and data to other systems in the vehicle, which can aggregate it so a decision can be made by the vehicle itself without requiring human input."
"What we're seeing is not necessarily a revolution, but an evolution in the deployment of really wonderful safety-based and productivity-based solutions into trucking," Jolicoeur adds.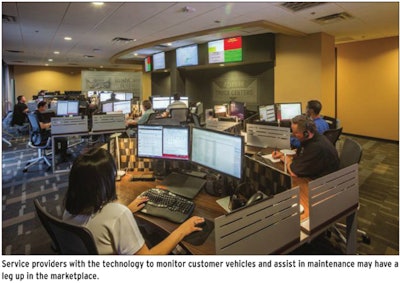 The future of maintenance
Onboard diagnostics and vehicle systems are already so complex that newer model trucks are difficult to service outside of a dealership, and Kar says that will only continue to develop in the years ahead.
"That is a trend that is driving more dealership revenues already," he says. "That is why OEMs are pushing prognostics so much. They want to divert that [repair] traffic towards dealership."
The push to keep all service and repair work away from the independent aftermarket, Kar says, will only heighten as trucking inches closer to driver-less trucks. In the event of an accident, who assumes the liability of a truck that doesn't have a human is muddled, but Kar says he expects that picture to become clearer and ultimately benefit the OEM. He believes OEMs will assume some of the liability of their autonomous trucks, but will mandate they be serviced and maintained only by an authorized dealer.
"If not, [they] will not stand by that liability coverage because you have compromised the truck by using an independent repair facility," he says. "That could be another way for the OEM to generate income."
Fuel of the future
Arguably, the only trucking subject more hotly debated than autonomy is the electric powertrain's place in the years ahead. Connected trucks of the future will almost certainly be powered by one or a combination of options, including diesel, electric, hybrid or fuel cell.
"Hybrid is a bridge to 100 percent electrification," Kar says, noting hybrid technologies provide production scale for batteries which reduce their costs overall. "Maturity of electrics will come even faster. The more hybrid vehicles on the road, the faster battery costs come down."
It's difficult to predict the preferred fuel of the future but Kar says as green energy momentum mounts, hydrogen will become a major player.
"Electric technologies are made through a very carbon-intensive process," he says. "Of all the technologies, hydrogen seems to be the most powerful yet most challenging."
The lack of a commercial hydrogen infrastructure will be a major hurdle to clear, but recent developments by Toyota and the continued work of Nikola Motor Company on its fuel cell Class 8 truck have given the fuel some momentum.
"Why hybrid is moving forward faster than electrification," Kar says, "is that it doesn't need any additional infrastructure."
While the passenger car industry tends to be used as a benchmark for where trucking is headed, Jolicoeur says the sophisticated communications used in the aviation industry—systems that allow tens of thousands of airplanes per day to relay their location and equipment status in real-time back to a centralized location with minimal human input—mirrors what is on the cusp of happening in trucking.
"I see the [trucking] infrastructure headed in a similar direction," he says. "Whether a truck is an electric truck or fossil fueled, we're going to build out that infrastructure to ensure real-time communication with all vehicles on the road and use that real-time infrastructure for safety, mobility, productivity and a number of other types of applications."
The future of mobility and infrastructure
Low fuel costs have stolen some of vehicle platooning's thunder recently, but Kar expects that to heat up in the immediate future. He expects platooning—the first wave autonomous trucking—to take root within the next six to 12 months.
"This technology is going to be used very soon," he says. "Everything is lined up."
The Federal Highway Administration oversaw a series of three-truck platoon tests near Centreville, Va., this fall and coordinated a successful two-truck platoon test in Texas last summer. A partisan bill that would allow trucks using autonomous technologies to shorten their following distance to enter into truck platoons was recommended for passage by the Iowa State House earlier this year, but hasn't yet been enacted.
In September, U.S. Department of Transportation Secretary Elaine L. Chao introduced the department's "A Vision for Safety" initiative, which replaces the Federal Automated Vehicle Policy released in 2016.
This updated policy offers a path forward for the safe deployment of automated vehicles by encouraging new entrants and ideas that deliver safer vehicles; expediting regulatory processes to help match the pace of private sector innovation, and supporting industry innovation and encouraging open communication with the public and with stakeholders.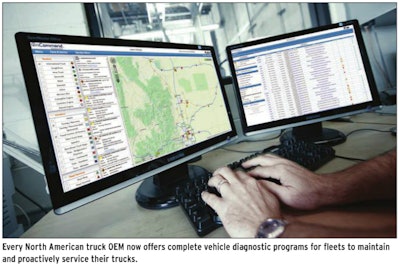 Digitization and 'the next big thing'
Electric mobility and connected trucks may be the two most prominent futuristic trends, but Kar says they fall short of "the next big thing."
"The next big thing is what governs the most fundamental relationship between shippers and carriers: the trade transaction," he says. "Autonomy, [and] electric mobility prognostics is downstream. The upstream transaction between shipper and carrier sets everything else into motion, including purchase of vehicle and that is about to get completely revolutionized by Uber for truck and those kinds of technologies that are already here. Basically, it's the way to connect the freight with the vehicle. It's going to change [utilization] in the coming years."
Freight on-demand, Kar adds, could also change the landscape of the highway.
"We may be staring at a future where vehicles are far better utilized and optimized, in which case we might not need so many trucks," he says. The shift to a modern load-matching format, Kar adds, is a migration away from inefficient analog process.
"We're talking about digitization," he says. "This whole Uber for truck is nothing but a digital freight broker. Prognostics is nothing but digital healthiness and well-being of a truck through predictive analytics. Autonomous driving is nothing but digitization of communication between trucks and infrastructure through digital means. Electromobility also by-and-large relies on digitization. And digitization is nothing but telematics."
In the more near term, Jolicoeur doubts app-based load matching services will dent the traditional relationship between carrier, broker and shipper.
To the contrary, using the real estate industry as a model, he believes it will make the entire process more productive.
"Years ago, a lot of companies started up in the real estate industry with the intent of replacing the broker, replacing the multiple listing service, with a direct connection between buyer and seller," he says. "That still hasn't happened yet. The broker, in the case of the real estate market, performs a very valuable service. And I think that is the case within the truck/shipping marketplace."