The following comes from the October 2017 issue of Truck Parts & Service. To read a digital version of the magazine, please click the image below.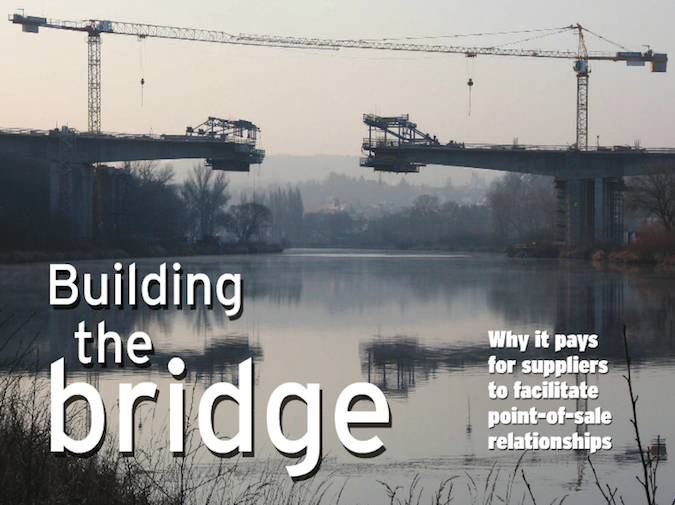 In sales, there are few resources more valuable than boots on the ground. Associates on the floor. Salespeople in the territory. If you want to sell a product, you need people on hand to support it.
The trucking aftermarket has done this for generations through distributor networks. Suppliers deploy sales professionals to provide product expertise and consultative assistance to independent distributors, who, as individuals within a larger network, in turn deliver a national footprint of sales professionals trained to move the supplier's products in the marketplace.
This tried and true method has been the back-bone of not only the aftermarket but most retail industries for a century.
But recently, as more and more consumers go online as their preferred mechanism for shopping and purchasing, manufacturers are starting to allocate less resources to distribution and more to marketing directly to customers.
This shift has been especially difficult for the aftermarket. Due to the complexity and specificity of aftermarket components, suppliers still require and value independent distributors who can work face-to-face with customers to solve problems and deliver products.
But that commitment to the distribution channel doesn't mean aftermarket suppliers are ignoring the will of their customers. On the contrary. Many suppliers in today's aftermarket are developing online and customer-focused marketing efforts to appease end users.
One specific approach that is paying dividends for many suppliers is distribution channel relationship marketing.
By bringing distributors and end users together, suppliers have found they can strengthen their bonds with customers and facilitate point-of-sale relationships that allow end users to optimize their purchasing while sustaining the distribution channel.
This style of marketing is becoming a way of life at Minimizer.
"Our mantra is if we can put our customers in front of their customers, we've created a win-win situation," says Jason Rhoads, Minimizer director of marketing. "The trucking industry is relationship focused and has been for so long, but now it's becoming harder to create some of those relationships. Our thought is we need to continue to build and cultivate those relation-ships because once they form, you have them for a long time."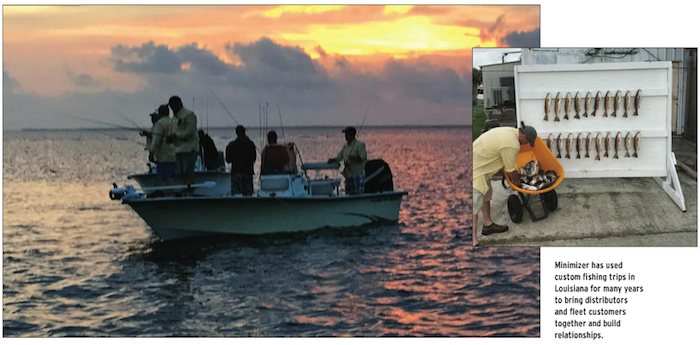 Minimizer believes a great way to kick start a relationship is through shared experiences. A conference room meet-ing can put names with faces, but a weekend together on the golf course or at a race track is likely to create a much stronger bond.
"I always say at our events: 'Our objective is you make a friend here,'" Rhoads says. "We don't want [attendees] to exchange business cards and then go home and put them in their rolodex. We want to create real relationships."
Minimizer's current list of relationship-building activities includes four-day pit passes to a dozen National Hot Rod Association races (with Minimizer's sponsored team), two all-inclusive fishing trips in Louisiana, and custom hunting trips in Maine, South Dakota and Alabama.
Though he builds the guest list for some of them, Rhoads says each event is designed to allow Minimizer's distributors to invite customers or prospective customers to join in the fun.
"We provide them opportunities to be the hero," he says. "To show the customer a good time and something they other-wise never would experience."
Ideally, Rhoads says that experience translates to a friendly and prosperous relationship when both sides return to their businesses. And judging by Minimizer's pre- and post-event sales numbers, he says that expectation almost universally checks out.
"We will use a customer code in Excel and track before and after a touch point and you can see the difference," he says.
But while Minimizer might be leading the aftermarket with its relationship marketing, it isn't the only company getting involved. Meritor also has found success bringing distributors and customers together for special events.
"We've really converted our business into the mantra of customer obsession, and making them top of mind in everything we do," says Doug Dole, general manager, Sales, North American Aftermarket at Meritor. He says the company's recent custom events include trips to The Masters and Final Four for distributor and end user customers.
Like Minimizer, Dole says Meritor writes its guest list for some events and used sales contests to fill the attendee list for others. In the case of the latter, Dole says these contests not only motivate distributors to expand their purchasing with Meritor, but also allow their channel partners to thank and reward their end user customers who purchased the products that led to the experience. It brings both parties closer together because they were both responsible for earning the trip.
"It allows us to create and foster an environment where we can meet with our customers and their customers and spend time together out of the work environment," Dole says. "Inevitably when you're doing something like this business creeps in there, but for us it's more about building and growing those relationships with the customers."
At Minimizer events Rhoads says it's not uncommon to go hours (sometimes even days) without talking business. When you're trying to qualify for a drag race, there isn't time for it.
"When we bring you out to a race and you put the shirt on, you become part of the team," he says. "And part of the team means we're all partners for that weekend. If we want to qualify for the finals, we have to work together as a team to get there."
He says that usually gets everyone excited, and suddenly the Winters Racing/Minimizer team is one of the biggest on pit row. "We'll have guys getting tools, running around helping out," he says.
And the more enjoyable the event, the more likely a customer will share the experience with friends and colleagues. Rhoads says that's where Minimizer sees its biggest return on investment. Everyone's looking for a good time, and Minimizer wants to be the supplier in the aftermarket providing them.
"I like to speak to the attendees after events and some of the words I hear are 'Once in a lifetime,' and 'the experience of a lifetime,'" says Rhoads. "That's what we want. If we can give them that weekend of wow it makes us feel confident" that a positive and potentially lucrative relationship has formed.
Yet it's also important to point out relationship marketing doesn't only work through events. There are tactics suppliers can use while interacting with distributor partners that will better ingratiate them to end users and strengthen their position in the marketplace.
One of those is onsite assistance. Sales reps willing to spend time working with distributor associates to move product are lauded throughout the aftermarket. Whether it be spending some time on the counter during a sales call or jumping in the truck with an outside salesperson to visit a key account, OE representation is always welcome at the point of sale.
"I think it provides a level of expertise within the equation," says Jerry Conroy, regional vice president of Aftermarket Sales at Bendix. "We understand that our distributors carry a wide range of product lines. That means they have hundreds of parts and solutions they are talking about on any given day.
"When we can be there, it offers an extra layer of support for that conversation [with the customer]."
Being on hand is also valuable for brand recognition and showcasing product proliferation, says Automann Vice President of Sales Jeev Khanduja. "Those salespeople have a lot of lines they are out there supporting so us being involved directly with the distributor and the customer helps keep Automann top of mind and in the forefront for both," he says.
That headspace is not something to take for granted. Brand loyalty is great but when a truck is down there's no substitute for part availability. Suppliers who can bridge the gap between a customer's purchase preferences and part access strengthen their supply chain.
Distributor open houses, co-op marketing programs and dual-branding are other methods suppliers are capitalizing on to build these relationships.
Automann sales reps attend between 40 and 50 open houses each year, usually at the behest of distributors, says Vice President of Operations C.J. Khanduja. While each open house is different, Khanduja says Automann's reps usually have the same goals: increase brand awareness; spotlight the company's product breadth; support distributors in customer interactions; and showcase the company's own sales tools.
He mentions the supplier's expansive print and online catalogs as a few tools. Built as resources for distributors and customers' alike, the catalogs allow Automann to display more product than would be possible in a retail setting, ensuring customers are fully aware of the products they can request from their local distributor.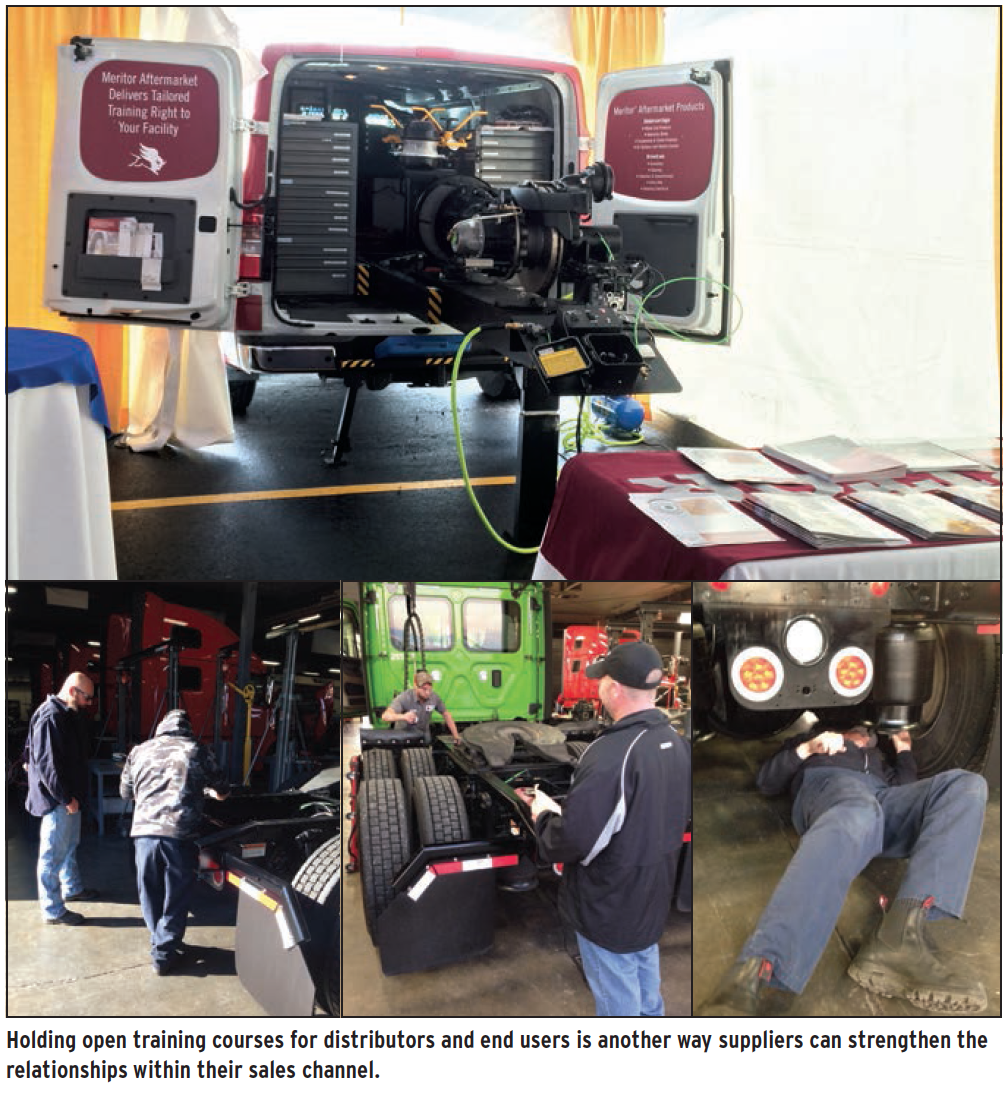 Suppliers also shouldn't overlook training. Distributors and customers alike are hungry for product guidance and expertise. Bringing both parties together builds trust throughout the distribution channel. Customers learn more about the parts they need and see their distributors doing the same to support them, while distributor partners learn they aren't going to market alone. They have a true support team behind them ready to step up when needed.
"A supplier should be the expert," says David Inman, field technician, technical sales at TMD Friction, which holds a customer/distributor brake training class at its Troy, Mich., facility each year in addition to small training courses on location for distributors.
"The distributor doesn't always know everything, so we have to be there to know the ins and outs of our products," he says. "It's important to show that support because customers want someone they can rely on."
Conroy says similar post-sales training support is a fundamental tenet of Bendix's aftermarket strategy.
"That's part of the Bendix sales promise," he says. "We need our distributors. We need their feet on the street in the market and owe them—and their customer—that post-sales support. We count on our distributors' teams when a customer has a question and needs a Bendix part, and with easy access to in-person and online tools, we deliver a strong support system."
Other suppliers agree. Distributors and suppliers are partners, and anything the latter can do to help the former is a victory for both.
"We're constantly asking ourselves how we can help our distributors be better at what they're doing," says Rhoads.
"We hear from end users that they want to do business with partners. They want those consultative relation-ships," says Ryan Obert, director, product marketing at Meritor. "To do that you have to make time and build those relationships."