The following comes from the October 2017 issue of Truck Parts & Service. To read a digital version of the magazine, please click the image below.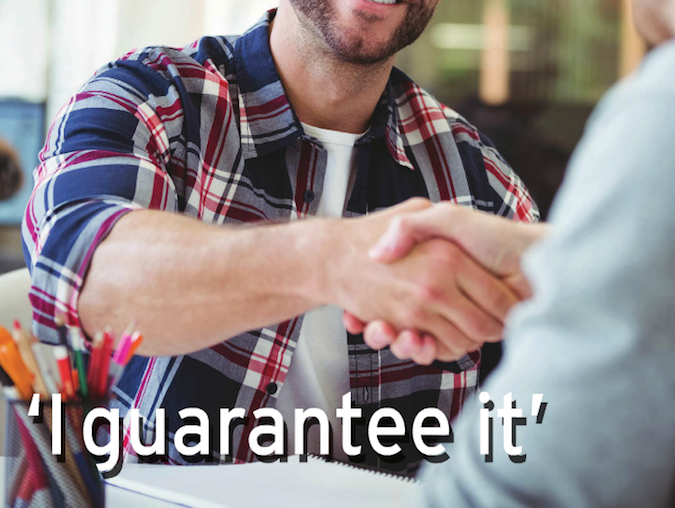 It is not uncommon to see or hear television commercials boasting of an automobile's warranty of three years/36,000 miles or some other period of time.
Warranty timelines are often used as marketing or selling points when advertising in the auto industry.
The same holds true in the commercial trucking world. Truck OEMs and dealer networks offer warranties of varying time lengths and mileage points when selling new and pre-owned trucks.
Warranties also are in place for everything within a truck, from the powertrain, suspension and electronics systems to specific components and products added in the field. For new equipment, OEMs place the warranties on individual parts that generally cover issues for the first few years of ownership.
But, as the mileage and years begin to add up on a commercial truck, it is only natural that parts begin to wear and eventually need replacing.
In the heavy-duty aftermarket world, warranties play a key role when customers or fleet owners are looking to find replacement parts.
The warranty timelines are important to second and third vehicle owners in particular. For example, if a fleet owner needs a part for a 2007 model truck, the owner may not be looking for a product that is expected to last another three to five years. A certain part, for example, may have a one-year warranty and that is acceptable to that owner based on the fleet's needs and expectations.
Most aftermarket suppliers develop products based on OEM requirements, meaning that the products are designed and spec'd to meet the standards set forth by the truck manufacturer.
Mike Burton, director of aftermarket engineering for Dana, says parts are designed and built to meet the original assembly requirements because in most all cases the parts are replacing those originally placed in the vehicle.
"Most of what we sell is used to replace parts developed for the OE customer," he says. "That's what makes up most of our sales."
When developing warranty timelines for those replacement parts, aftermarket suppliers must look at many factors.
"We look at what the OE warranty was on the parts we produce," he says. "It doesn't mean that ours are the same, there's a lot more that's controlled—things such as part wear factors. As the part was designed for original application, it was tested to the extreme in labs and on vehicles."
That extensive testing forms the basis of development for aftermarket parts, which are engineered to meet performance requirements built off the original genuine component. Neapco recently added an enhanced research and development facility at its Beatrice, Neb., plant to strengthen its aftermarket product testing abilities.
"All of our products are extensively tested and thoroughly researched prior to launch," says Steve Ditlow, Neapco's vice president of Aftermarket Sales and Marketing. "We put them all through a series of tests to determine what warranty guidelines and timelines should be in place on each part."
Eaton does the same, conducting component and assembly testing using both lab and fi eld environments.
"This combination gives us data on the performance of the products in real world applications, so we can best deter-mine robustness and proper application," says Tim Bauer, vice president, Aftermarket, Eaton Vehicle Group North America.
"Eaton looks at several areas during the testing phase—product performance, environmental robustness and endurance. These key product characteristics are assessed through engineering analysis and test protocols, and each aftermarket product is evaluated for its intended application to ensure they meet or exceed fleet customer wants and needs."
Aftermarket manufacturers say these tests are often conducted for long-cycle periods that enable engineers to gain a grasp of how long a certain part can hold up. That gives one indication of how long the warranty period should be set on that certain part.
"All Eaton Aftermarket transmission and clutch products undergo the same level of engineering testing as our products that we sell to OEMs," Bauer says. "Eaton products are evaluated against their intended applications using a combination of engineering analysis and testing to ensure they satisfy our fleet customers' expectations."
Ditlow says the testing process also gives a good indication of the wear and tear that a part can take, and how long it should be able to hold up under certain stress elements.
"The testing process is really quite extensive," he says. "Our engineers can gather from these whether or not the parts are meeting the standards that we need. Our R&D facility is quite impressive and gives us a good look at the parts we are manufacturing."
Determining the useful life of a part is imperative when the supplier begins considering the sales channel.
"The products are tested thoroughly," Burton says. "We know how the parts will hold up and what the customers can expect. We use a wide range of tests and the knowledge that we have gained through looking at these parts and the OE counterparts to know what we have."
But as with most any of today's trucks, the number of parts needed continues to grow. As technology in all areas ad-vance, the trucks require more and more sophisticated parts to meet industry and federal laws and regulations. With the development of so many new aftermarket products, suppliers have a growing list of part numbers available to customers.
Warranty timelines vary from part to part and, in some cases, from one supplier to the next. Each looks at the warranty process through its own set of lenses.
Tom Hujik, director of North American Aftermarket Sales for Horton, says most companies "parallel" themselves when determining warranty timelines on certain parts.
"Usually similar products between companies will have the same warranties and they have all undergone extensive testing to make sure they hold up to the warranty's standards," Hujik says.
When determining a certain part's warranty, suppliers look at a number of things.
Eaton Aftermarket product warranties are compared to similar drivetrain products, OEM warranties and competitive products, Bauer says. He says Eaton looks at complete transmission and clutch assemblies as a total system, because the company controls the assembly processes to a certain standard.
"Employing this complete system approach, Eaton is able to build more warranty timelines into our products because we have a higher-level of assembly control as compared to competitors of individual components. We also do significant research and analysis of fleet customer wants and needs, product applications, the environments these products will be used in, and the competitive landscape."
Those factors help determine the length of different warranty offerings, however, length of warranty is only one aspect of the 'value' of a warranty.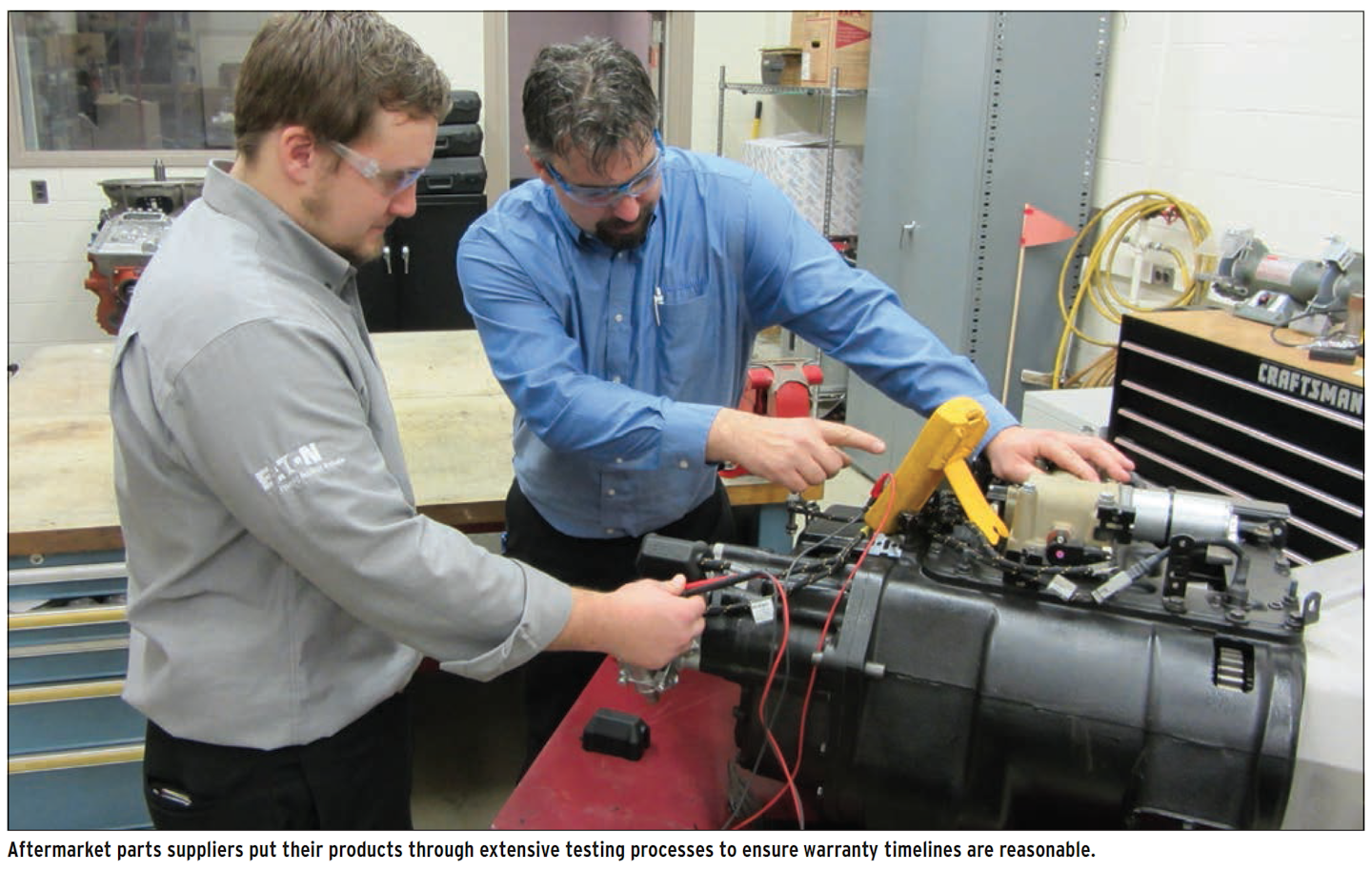 Coverage of different costs such as labor, parts, shipping, service responsiveness, parts availability, location of service centers, technical assistance, and ease of warranty processes are just as important in the value equation.
Warranties are most often established by the sales and marketing teams of a supplier and then the engineering and development groups design and build the parts to meet that timeline, Burton says.
"When we go in to develop a product for the first time, we know what the intended warranty should be," he says, adding "so we develop the product to meet that timeline."
If an OE part was built to last for 10 years, Burton says it's reasonable to expect the second and third truck owners will not need that.
"Certain types of tests tell us about the product's durability," he says. "If you went to an engineer and said that we want to give a lifetime warranty, the engineer wouldn't agree with that. Lifetime warranties are marketing tools. What the engineer knows is what the life cycle goal is."
Just as important in setting a warranty timeline is determining the brand's promise.
Suppliers not only work to develop parts that meet certain timelines and requirements, they also look to see what customers expect.
"At the end of the day, that's what we are all in business for," Hujik says."If we build products that aren't designed to meet the customer's needs, then we are not doing our job. We have to meet the customer's expectations or it doesn't matter what we are making so the warranty has to be in line with what they need and expect."
Ditlow agrees: "All of our research and development would be useless if we weren't making products that our customers need."
He says maintaining a warranty that protects customers is crucial to building a customer's trust.
"Our customers want to know that we are developing parts that they not only need, but that they can count on. If we give them the products they need and the warranty they want, it goes a long way," Ditlow says.