The following comes from the November 2017 issue of Truck Parts & Service. To read a digital version of the magazine, please click the image below.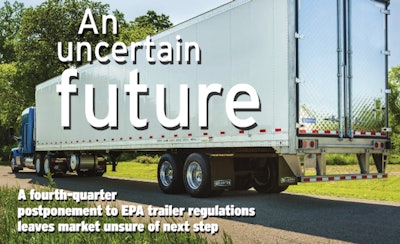 The trailer market was thrown upside down late last month when a Federal appeals court paused implementation to the Environmental Protection Agency (EPA) and National Highway Transportation Safety Administration's (NHTSA) joint 'Greenhouse Gas Emissions and Fuel Efficiency Standards for Medium- and Heavy-Duty Engines and Vehicles – Phase 2' regarding commercial trailers.
Composed earlier this decade and published as a Final Rule in October 2016, the EPA's Phase 2 program was built to expand and intensify regulations implemented on engines and tractors by Phase 1, with additional regulations for the previously untouched trailer industry. Those regulations, scheduled to go into effect on Jan. 1, 2018, are now on hold as the EPA works to reevaluate its trailer provisions and determine if any of its previously written rules will eventually reach the trucking industry.
For the aftermarket, last month's news could be a substantial victory. In its Final Rule, the EPA and NHTSA wrote the "Phase 2 program will include technology-advancing standards that substantially reduce GHG emissions and fuel consumption, resulting in an ambitious, yet achievable program that will allow manufacturers to meet standards over time through a mix of different technologies at reasonable cost."
To reach those milestones in the trailer market, Phase 2 was written to eliminate customer choice and require the factory installation of aerodynamic and fuel efficient products on all new trailers.
Had it moved forward as planned, Phase 2's implementation would have signaled the beginning of the end for the retrofit trailer technology market. But October's stay of execution from the U.S. Court of Appeals does not eliminate Phase 2's threat to the aftermarket. For aftermarket businesses selling these products, the future remains uncertain.
For the EPA to reinstitute its ruling, it will need to prove it has the authority to regulate trailers under the Clean Air Act. The Truck Trailer Manufacturers Association (TTMA) questioned that authority in filing a lawsuit against Phase 2 nearly a year ago. That action was followed last month by another TTMA appeal to delay the January start date, citing the EPA's response to TTMA's request that further rule making is needed.
"The Clean Air Act grants authority to the EPA to regulate motor vehicles—specifically, 'self-propelled' vehicles," TTMA stated in its petition. "Trailers are neither motorized nor self-propelled. Trailers move a tremendous amount of goods in interstate commerce. If Congress had intended for EPA to regulate trailers, it would have included trailers in the definition of a motor vehicle when it enacted the CAA."
In announcing its stay of the regulations last month, the D.C. Court of Appeals wrote the TTMA's request satisfied the requirements for a stay.
The long-term future for Phase 2's trailer regulations are now unknown. The EPA announced it will hold public meetings to discuss its trailer regulations and consider updates, but the extent to which it will fight the Federal court ruling is not clear. Regulatory rollbacks in other industries—both by Federal courts and the EPA itself—have created an air of uncertainty in the trailer marketplace.
If Phase 2 returns in any capacity, it's likely to be altered from its initial version. Until last month, Phase 2's requirements fell into two main groups.
For long box trailers (50 ft. or longer) such as dry vans and reefers, manufacturers were required to install trailer side skirts, low-rolling resistance tires and tire pressure monitoring or automatic tire inflation systems on all new units. Phase 2 did not require the use of any specific brand for these categories—in its Final Rule the EPA writes more than 70 aerodynamic technologies verified by the SmartWay program are eligible for use—only that one product for each category must be used, and that the combination of the three systems net a 3 to 8 percent reduction in fuel consumption and CO2 emissions, depending on the type of trailer.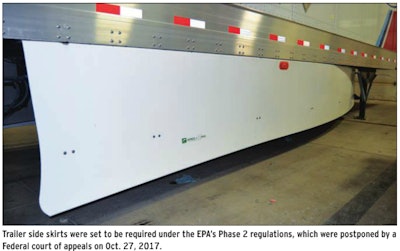 Before October's stay was announced, box trailer manufacturers were working diligently to acquire the necessary products to fulfill the regulations.
"We're going to have a long list of spec'ing options," Stoughton Vice President of Sales Dave Giesen said before the regulations were paused. "As long as what the customer wants has been EPA authorized and is on that [approved technologies] list, it will generally be OK."
For other trailer types, the scheduled regulations were less restrictive—some lower-volume types were exempt from the proposed rules—but were harder to achieve.
"The final program excludes all non-box trailer types except for three specific types that we believe are designed for and mostly used in on-road applications. These types are tanks, flatbeds, and container chassis," the EPA wrote in its 2016 Final Rule. With these trailers, the EPA said Phase 2 would require only low-rolling resistance tires and tire pressure monitoring or automatic tire inflation systems.
It was that tire obligation that was proving most difficult for trailer OEMs in preparing for Phase 2, East President and COO Dave dePoincy said before October's pause.
"Tires are often very specific for certain types of equipment and many of the low-rolling resistance tires out there today aren't designed for these types of trailers," he said. "They work for those other segments [dry van and reefer] that are meeting those long-haul requirements."
As a small manufacturer with less than 1,000 employees under Phase 2's guidelines, dePoincy said East had an additional year to work with its tire suppliers to develop tires that would allow the company to meet Phase 2's benchmarks. But for larger manufacturers, Phase 2's upcoming implementation date was looming as potentially impossible target to hit.
That preparation struggle, and further questions regarding the usefulness of Phase 2's regulations, were also targets for TTMA in fighting the proposed regulations.
The organization has long supported EPA's SmartWay program, and said its members offer a wide selection of SmartWay-approved systems to their customers. But in making such technology required, the EPA was forcing equipment onto trailers that not only would not see the air quality and benefits, but also could result in raising emissions, TTMA stated.
"There is already a compelling incentive for the owners and operators of heavy trailers to add this equipment where these benefits can be achieved," TTMA stated. "But most trailers are operated in such a way as to get little or no benefit from these design changes, and these are the trailers that the new [Phase 2] rules would affect."
The organization also added, "Trailers used in short haul and local delivery operations travel mostly at lower speeds and would gain no benefit from EPA's mandated equipment. In fact, the added weight of the EPA mandated equipment will decrease fuel efficiency in these operations."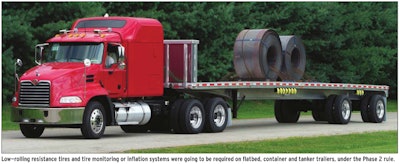 The near last-minute appeals court decision also has impacted the supply chain for these technologies. Customer interest in Phase 2's required products are strong in the dry van and reefer markets—with adoption rates at or surpassing 50 percent for some products—but having purchased inventory to install them on all units, it's likely trailer manufacturers will require several months to use the products they now have on hand.
Before the pause was announced Giesen said most long box trailer customers were accepting of the new rule because the upfront cost was minimal. He said Stoughton had offered to move customers' Q1 builds into Q4 ahead of the regulation, but that while "everyone appreciated that we asked, no one really took us up on it."
No longer beholden to a Federal rule, there's no telling if those opinions will change. There's also the question of part two of Phase 2. January's trailer regulations were to be the foundation for a series of additional trailer regulations to be implemented over the next decade.
"The standards increase in stringency in model years 2021 and 2024, with final standards in model year 2027," the EPA wrote last year in its Final Rule. "The fully phased-in trailer standards achieve up to 9 percent lower CO2 emissions and fuel consumption compared to an aver-age model year 2017 trailer."
There's now no guarantee that any aspect of Phase 2 will see the light of day. The EPA's response to October's court decision was minimal, and EPA Administrator Scott Pruitt hinted back in August in response to TTMA's lawsuit that Phase 2's trailer regulations were on thin ice.
"We intend to initiate a rule-making process that incorporates the latest technical data and is wholly consistent with our authority under the Clean Air Act" he said.