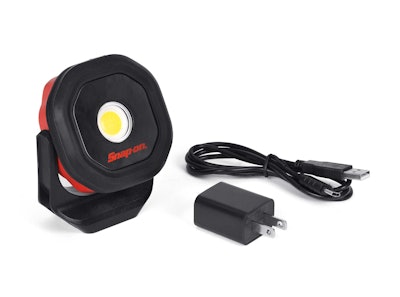 Snap-on, again, is dropping the puck to shed lots of light in confined spaces by releasing the "Hockey II" ECPRA072.
The 700-lumen light is the latest addition in its "project light" category comprised of small-format lights for tight workshop tasks, such as illuminating brake work, wheel wells and other small-format jobs, according to the Kenosha, Wis.-based company.
"Hockey II" ECPRA072 is the second generation of the ECFHKY, and the light gets its name because of its similarity in size and shape to a hockey puck. The ECPRA072 is made of aircraft-grade aluminum alloy and has an IP54 rating for its capacity to withstand exposure to water and dust. Snap-on says it's the first aluminum-bodied project light in the line and, like portable electronics, uses USB-C for recharging. The Hockey II lasts up to six hours on its lowest setting and two hours on high when fully charged. The light also offers a built-in battery gauge and variable dimming. It can withstand drops from 4 meters.
"Snap-on is known for taking the best and making it even better, and that's what we've done with this light," says Mark Ganey, a Snap-on Tools product manager. "We took a popular, lower-lumen light [and] increased the brightness, run time and durability to provide the ultimate product in our smallest lighting category."