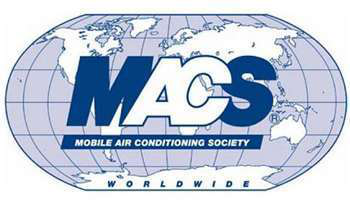 Robinair and Mobile Air Conditioning Society (MACS) Worldwide have teamed up to provide for up to 125 technicians a Section 609 test prep webinar for training and certification, as well as an online test. The webinar will be broadcast on a private YouTube channel at 2 p.m. EST, Wednesday, Jan. 24, 2018.
Technicians can register by calling (215) 631-7020, Ext. 0, or online at www.macsw.org. Registrants will receive a link to the webinar in advance of the event free of charge, courtesy of Robinair. They also will receive a link for the test after the webinar.
The webinar is approximately 90 minutes, and technicians can become Section 609-certified to work on vehicles using R-12, R-134a and R-1234yf refrigerant when they pass the online test. Technicians should take the test immediately after viewing the webinar. If they pass the test, Section 609 credentials will be sent to them. Should a technician fail the test, one online re-test will be allowed. Technicians who wish to purchase refrigerant in quantities of 2 pounds or more must be Section 609-certified and show their credential at purchase.
"As R-1234yf becomes more prevalent in vehicles on the road, technicians and shop owners need training to recognize which refrigerant is being used, how to handle it safely and how to make sure they are properly equipped with the right machines and tools to service them," says Tim Wagaman, Robinair senior product manager, air conditioning and fluid products. "Working with MACS to educate, train and certify today's technicians on the latest breakthroughs and advancements in the mobile air conditioning industry is one our main goals for 2018, helping to ensure A/C service is performed properly and by trained, certified technicians."
R-1234yf refrigerant is gaining popularity among vehicle manufacturers because it reduces the environmental impact of A/C systems in vehicles, helping manufacturers meet stringent vehicle emissions standards, according to the news release. Automakers can receive emissions credits for using environmentally friendly refrigerants, meaning aftermarket technicians will begin to see an increase in vehicles using R-1234yf. The number of vehicles using R-1234yf is expected to increase exponentially in the coming years as the refrigerant replaces the current industry-standard R134a.
The MACS 2018 Training Event and Trade Show, A/Ccess will be held Feb. 14-17, 2018, at the Caribe Royale Hotel and Convention Center in Orlando, Fla. A calendar of regional training can be found on the training page of MACS website.